Age has its Privileges
By: Northern Seminary
Alison and I were minding our business, returning to the car with our purchases from the supermarket.  A young lady – with some friends nearby – approached.  She was very polite: "Would you mind if I had my photograph taken with you?"
Why the request?  "You see," she continued, "I have a high school project which requires me to be photographed with different categories of people, and that includes the elderly."
We smiled, said "Sure" and I hope she went away with an acceptable photo.  We offloaded the shopping into the trunk, and once the car doors were shut burst out laughing.  That was last week and I don't think we have stopped laughing yet.
We were away for a few days when that encounter happened.  Since then we have walked round two lakes, clambered over giant boulders to follow a trail path marked only with dots of white paint, and scaled and descended a 6,500 foot mountain (though I confess the car park from which we started was not far from the summit!) Is that not impressive for two people a high school student thought elderly?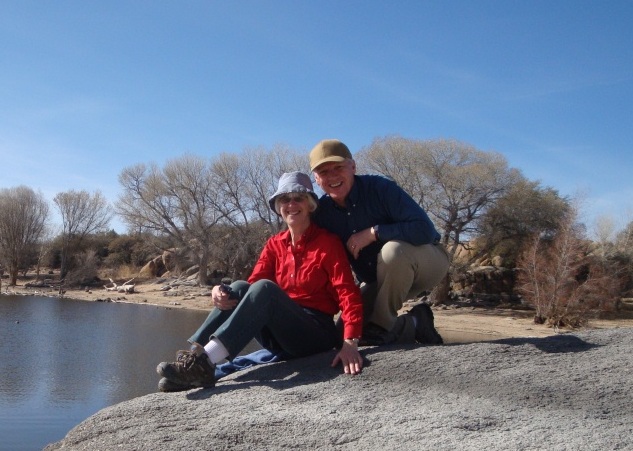 Maybe writing that last paragraph makes me seem defensive.  I hope I'm not and for three reasons:
First, there are many biblical accounts of people whose best work for God is not done in the first flush of youth.  Moses is an obvious example.  Leading the Israelites out of captivity in Egypt did not even begin until he was about 80.  The Spirit of God is not given in one supercharge which then runs down as we get older.  God fills young and not so young with the power of his Spirit every day.
Second, I could not be more energized about what God is doing with Northern Seminary these days.  I have visions as well as dreams! (Acts 2: 17)  They're not just visions of a distant future for they're working out right now.  We're growing larger, deeper and more effective.  In other words, more students keep hearing of Northern and enrolling, there is more emphasis on spiritual growth, and more stories come back of how God is using Northern grads in amazing ministries. There is so much to get up and get on with every day.
Third, the same evening as our photographic encounter with the young lady, Alison and I went to watch a movie.  "Tickets for two seniors!" I said proudly.  "That'll be a total of $10" replied the cashier.  Having white hair has its advantages, we decided.
Northern
Seminary
410 Warrenville Rd, Suite 300, Lisle, IL 60532
(630) 620-2180

Request Info
Ready to start your seminary Experience?
Apply Now