Baalbeck Wednesday June 22
By: Northern Seminary
Our final day of activity!  I chose to:
Make it more restful
Let it be a highlight
Still stretch our appreciation of the amazing history of the Middle East
The first failed but the rest succeeded wonderfully!  In the morning we travelled two hours out from Beirut to the Bekaa (or Beqaa) valley, and late in the afternoon two hours back.  In between we walked in blazing sunshine around the (mostly) well preserved ruins at Baalbeck (also spelled Baalbek).  So it was not restful!  Yet it was remarkable, and no-one failed to come away amazed by what we had seen.
My tour map says Baalbeck is the largest and grandest of Roman temples ever built and among the best preserved.  The Bekaa plain was a major trade route in ancient times, right in the heart of the fertile crescent, and a natural gathering place.
Here is the opening description in Wikipedia:   Baalbek is a town in the Bekaa Valley of Lebanon, altitude 1,170 metres (3,840 ft), situated east of the Litani River. It is famous for its exquisitely detailed yet monumentally scaled temple ruins of the Roman period, when Baalbek, then known as Heliopolis, was one of the largest sanctuaries in the Empire. It is Lebanon's greatest Roman treasure, and it can be counted among the wonders of the ancient world, containing some of the largest and best preserved Roman ruins.
I cannot argue with any of that.  Most of these buildings were constructed over about four or five centuries, approximately on either side of the time Jesus walked the land not far away.  Yet there were buildings on the site even earlier and some more recent ones have been added.
There I have started drowning you in facts.  I have emerged full of details which might kill those reading this blog.  So let me instead place some of my photos here with just simple captions, and then I'll finish with a couple of comments.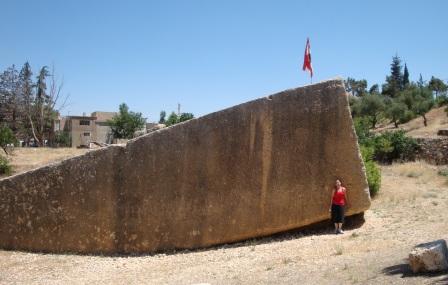 "The Stone of the Pregnant Woman" was hewn as one large stone by Roman workers in a nearby quarry, and is claimed today to be the largest stone in the world.  It has sat in the same place for nearly 2000 years because eventually 'management' decided not to use it in the construction of the temple. It measures 70.5 x 15.7 x 13.8 feet, and Lauren Anders helpfully stood beside it to give a sense of scale.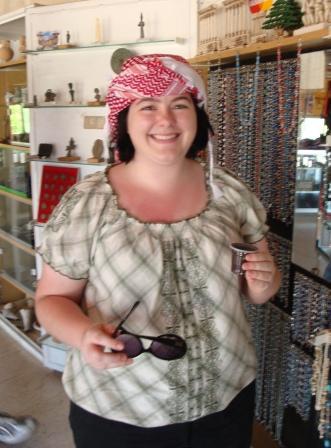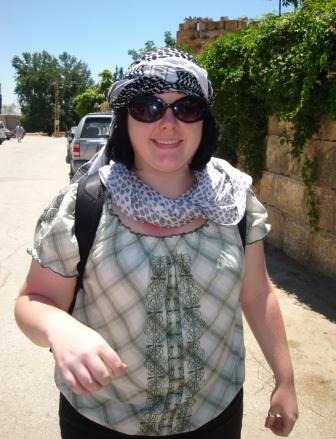 Everyone has been buying gifts.  Cana Roth sought our views on the red head scarf or the black head scarf.  Both seemed great to me, but what do I know?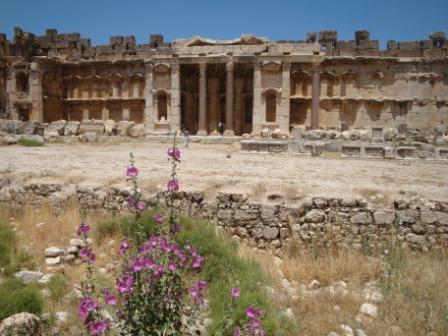 One of the large walls of the Temple of Jupiter.  Overall that temple measures 289 x 157 feet, an enormous size.  It stands on a raised platform – a podium – built with some of the largest stone blocks ever hewn, including three weighing about 800 tons each.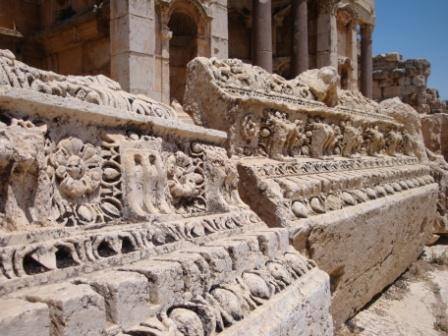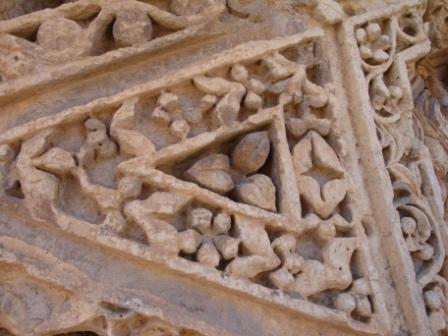 Much of the original structures still stands, but over 2000 years a very large amount has collapsed.  The one advantage of that is a close-up view of the intricate stonework done by ancient builders.  It is very moving that they used such skill for stone pieces they had to assume would never be seen up close.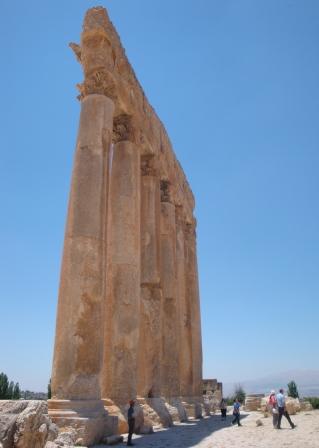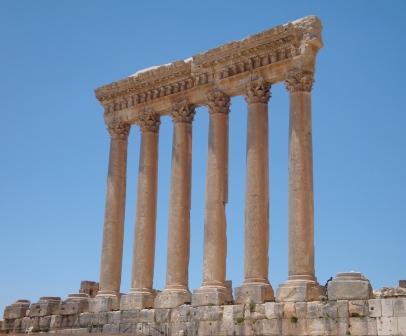 The Temple of Jupiter was surrounded originally by 54 external columns.  Only six are now standing – the Six Corinthian Columns – and they stretch an enormous 72 feet into the air.  One of my two photos has people near the base, giving some sense of how tall they are.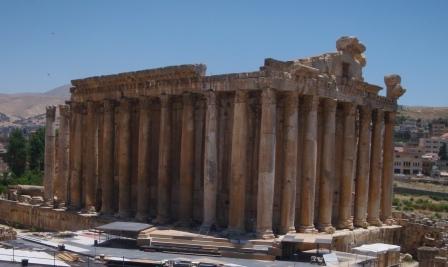 The Temple of Bacchus is one of the best preserved ruins on site (and soon to be the backdrop for an international festival for which staging was being built).  It dates back to the 2nd century AD.  It seems enormous and yet is reckoned the smaller temple on this site.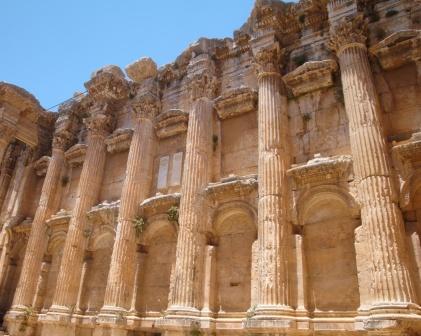 The internal columns of the Bacchus Temple are almost as impressive as the exterior.  Again it is hard for any picture to convey the massive scale of what was built here.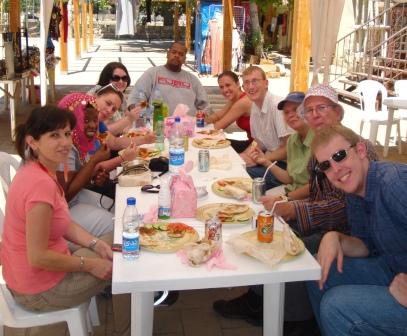 After much walking in hot sun, we found a nearby cafe for sandwiches and gloriously chilled drinks.  Last purchases were made in nearby shops.  We think we have everything!
Tonight is our last night in Beirut, and we leave for the airport at 6.30 a.m.  Our return flight involves a four hour layover in Frankfurt and the trans-Atlantic journey with Lufthansa.  From door to door the journey will probably be about 22 or 23 hours.  I have the sense that everyone is sorry to leave, but also happy to be heading home.  This has been a great experience, but it is time to return to normality.
Once we are all back I will write one more blog entry in this series and try to reflect a little on the value of a missions course anchored far off in a land like Lebanon.  Thank you for interest and prayers.  That has not only encouraged us but been very important.
Northern
Seminary
410 Warrenville Rd, Suite 300, Lisle, IL 60532
(630) 620-2180

Request Info
Ready to start your seminary Experience?
Apply Now