Baptist school and other meetings Monday June 20
By: Northern Seminary
This was one of those days when plans changed and we needed to adapt.  One of our students offered a new beatitude, "Blessed are the flexible, for they shall never be stressed."  I know too many, including me, who could do with remembering that.  To be fair, it was only timings which changed, and it all worked out well.
Some had to listen to me preach for the second day in a row, as I had been asked to bring the message at the ABTS chapel service this morning.  There was a relatively large crowd, but now that graduation is over many are about to leave.  I spoke from the Great Commission passage, stressing that service/ministry begins first with surrender, that there is room for those who feel weak in their faith, that God has disciples he wants found in all nations, and that ultimately his work will be done because he is with us.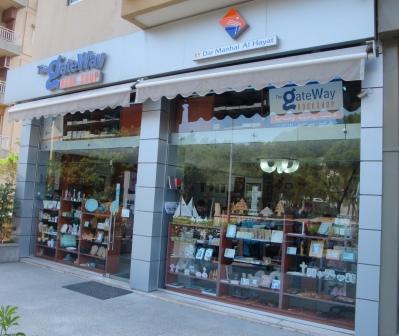 There was some rearranging of the rest of our morning, and, accompanied by seminary students from Canada, we headed off in a bus to the GateWay bookshop.  This is part of the work of the Lebanese Society.  Helping people have good Christian literature is a high priority, and the bookshop is one means of it reaching people's hands.  There is literature in English and French, but especially a great deal was in Arabic.  It was excellently laid out on two levels and well stocked.  This store had a few souvenir items as well as books and did good trade from our visit.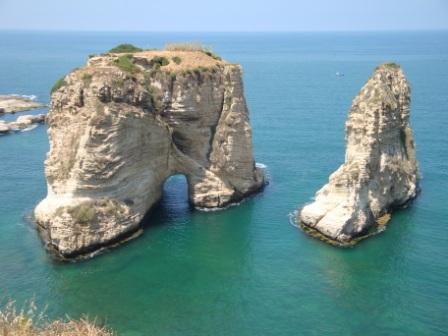 Along our route there was time to stop at Pigeon Rock – or Pigeon's Rock – or Pigeons' Rock.  The name seems to vary, and can even be called the Rock of Raouché after the downtown area where it is located just offshore.  Google failed to help me find an explanation for the word Pigeon in its most used name.  No sign of pigeons on it.  Nor does it look like any pigeon I have ever seen.  Rather, it is a sculpture done by wind and wave, and an iconic image for Beirut and Lebanon.  Tragically it is also a very common location for suicides.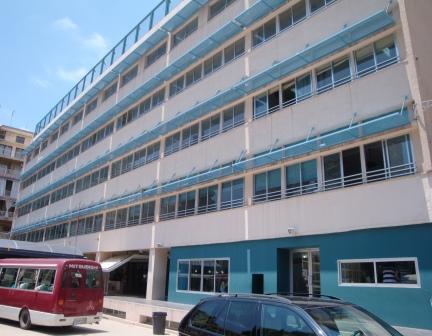 On we went to Beirut Baptist School, another part of the Lebanese Society's work.  I have been here twice before, and even enjoyed one of the children's graduation services.  Set in a Muslim area of downtown, it gathers in over 1300 students every day.  The quality of its education is impressive.  Students attain some of the highest marks in Lebanon and admission to university for graduates is normal.  It is always concerned for the whole child, and everything we heard during our visit fitted with the school's mission statement:
The BBS mission is to prepare the students in mind, body and spirit to meet the challenges of the world around them. The school continues to share the spiritual concerns of its founders and their mission to promote love of God and country and to liberate the mind and soul from the bondage of ignorance and fear, hence its motto:
 "You shall know the truth, and the truth will set you free"
We were very impressed, and can see significant long term value in the work that BBS is doing.
We were now running quite a bit behind schedule, but our kind friends back at the seminary had kept lunch for us.  We have been very well fed throughout.  I suspect food cutbacks lie in the future for many of us.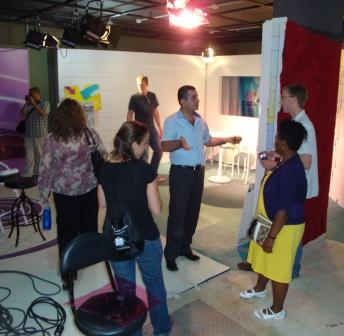 In mid afternoon we visited the next door facilities of SAT-7, which celebrated 15 years of Christian satellite television broadcasting at the end of May.  It has several centers and we met with Naji Daoud who is Executive Director of the Lebanon Bureau.  He described the growth from an original two hour program in 1996 which was aired several times, through increasing amounts of air time until 24 hour a day transmission was achieved.  Now several different channels all broadcast 24 hours a day.  Their short statement of what they do is "Christian Satellite Television by and for the People of the Middle East and North Africa."  Naji made it clear that they air only programs made by people who belong in the regions to which they transmit.  There is much more on the SAT-7 website: http://www.sat7.org/en/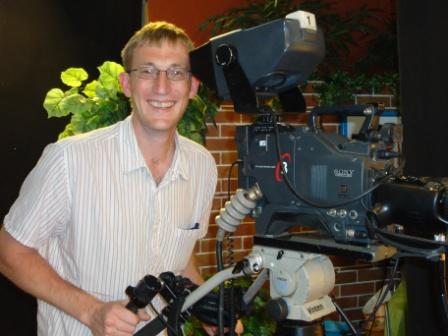 We went on a tour of their premises.  Lots of production and editing rooms, but inevitably the studios got most people's attention. It is always fascinating to be on a TV set.  Naji explained the programs they made there, and the keenest photographer of our group, Erik, managed to get his hands on a really big camera!  He looked sorry to leave it behind.
We were all fascinated and impressed, so I had apologies to make to my friend Alia Abboud as most of us arrived 15 minutes late for a meeting with her.  Alia is Director of the Development and Partner Relations Department of the Lebanese Society.  I had asked her to give us all an overview of the whole range of Christian work the Society covers.
It was dangerous to put many tired people in comfortable seats in a pleasant room, but Alia did a great job with PowerPoint and many stories of wonderful work.  We stayed well awake.  I came away wondering how Alia, Nabil and other senior colleagues ever stay on top of the vast range of initiatives.  And it is still growing.  There are ideas being worked on right now for even bigger projects.  They need our prayers.
By the time we finished it was time for dinner, and with nothing scheduled for the evening people scattered in different directions.  I know one played basketball which, in the heat of a June evening in Lebanon, was double value in hard exercise.  Others found calmer forms of activity, including me.  My fingers got exercise on the laptop keyboard but that was about it.
Northern
Seminary
410 Warrenville Rd, Suite 300, Lisle, IL 60532
(630) 620-2180

Request Info
Ready to start your seminary Experience?
Apply Now