Beauty to take your breath away Tuesday June 21
By: Northern Seminary
Our day began in the company of the visiting seminary students from Canada as together we walked a whole 100 yards to the next building to ABTS, to the center operated by Skild.  The name stands for Smart Kids with Individual Learning Differences.  Lebanon has specialists in various disciplines to whom parents can turn for help with their children, but they operate in isolation from each other and their charges are usually prohibitive.  Skild began only in March this year as an integrated learning support center for a whole family.  It brings together disciplines like occupational therapy, speech therapy, psychology and counselling.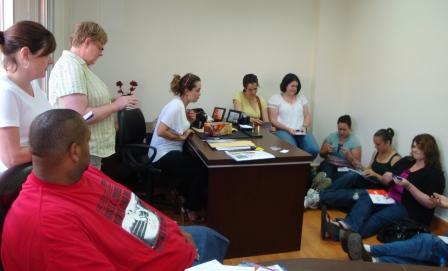 The facilities are new, and we crowded into a room without too many chairs, but students are adaptable and the floor was fine for many.  Director of Skild, Juliana Eid, spoke with passion and love for children and their parents who are struggling, and with a sense of God at work already with Skild.  Over 30 children are already being helped, far more than they had expected with a start so late in the school year.  There are big plans for the future, and Juliana is confident God will take care of all the details.  www.skild-edu.org
As we walked back Matt Gregory was waiting to greet us.  I have known Matt and his wife Suzanne for a long time, and visited them here in Beirut in 2007.  They are British, came to Beirut as volunteers, then became part-supported by an agency, decided God wanted them here long-term so returned for one year to the UK for full training, and have been back here for three years.  Now they have a 16 month old little boy, Seth, who beams the most gorgeous of smiles from beneath his blond hair.
These days they work with 'kidsalive international' who describe their work as Christian Care for Children at Risk.  Matt is Director of the Dar El Awlad residential program in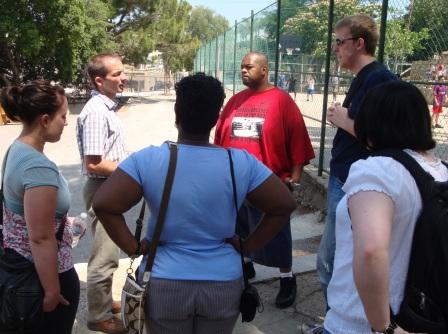 Beirut.  People talk about the center as an orphanage, though Matt explained to us that 'orphanage' here carries the meaning of the fatherless, meaning children growing up without the protection and provision a father would be expected to give.  Many children live on site, and others join them daily for school classes up to grade 6.  (Matt is seond from left, in the upper part of the photo.)
It is within two days of the end of the school year, so classrooms were being tidied and there was sports on the games field.  There were no lack of new friends for our team.  Almost all the older children spoke excellent English, and were not at all backward at coming forward with questions or requests.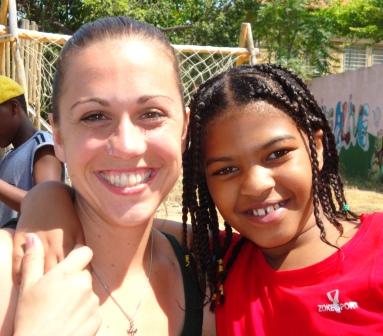 Lauren Anders soon gained a new companion who almost commanded me to take their photograph.  Happy to oblige.  One of the boys asked Erik Kamp if he could take pictures with his camera.  Within seconds Erik's new young friend was into the camera's menu system, putting it to the settings he wanted, and he was about to switch the internal language to Arabic when Erik rescued back his camera.  It turns out that Dar El Awlad runs a photographic course for the children who have become remarkably proficient, and more able to understand the sophisticated settings of modern cameras than most of us.  I purchased a calendar with excellent pictures, every one of them taken by a child aged between 9 and 12.
We had time to see round the living accommodation.  I visited one of the units where 6 or 8 boys stay with a couple of house mothers keeping an eye on them.  These children are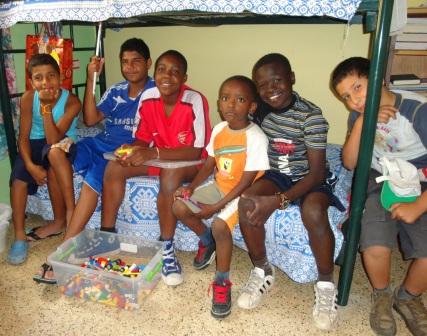 safe, learning the love of God, and finding hope for their futures.  Their smiles and friendship are genuine and we give thanks for the great work taking place in their lives.
In the afternoon and into the evening we had time for something more leisurely, though this leisure involved some effort. If ever effort was worth it, it was today.
Our bus took us to Jeita Grotto.  I had no idea what I was going to see, but this surely must be one of the most magnificent of all the wonders of the world.  We posed for photographs outside, for absolutely no cameras are allowed in either of the main caverns at Jeita.  On the left of the photograph is Rosette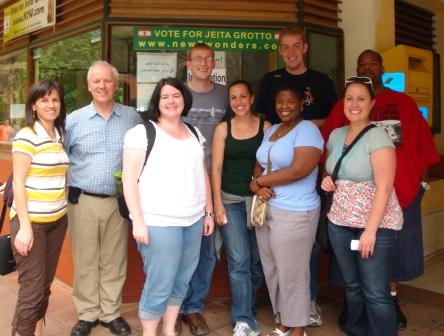 Mansour of the Baptist Society staff, the person locally who has coordinated our whole visit and served us with Christian love and care. We owe her much.
Because I cannot show you any personal pictures and because there is so much to learn, I strongly urge you to look at Wikipedia's info on Jeita Grotto. http://en.wikipedia.org/wiki/Jeita_Grotto
Here is a short extract from the web site:
The Jeita upper cave has an overall length of 2,130 metres (6,990 ft) of which only 750 metres (2,460 ft) are accessible to visitors via a specially conceived walkway. The upper cave contains a great concentration of a variety of crystallized formations such as stalactites, stalagmites, columns, mushrooms, ponds, curtains and draperies. The upper gallery is famous for its formations, lit by an effective lighting system. It is entered through a 117 metres (384 ft) long concrete tunnel…. The longest stalactite in the world is located in Jeita's White Chamber; it measures 8.2 metres (27 ft) long.
What these words cannot convey is the astounding beauty, the remarkable size of the caves, the depths to look down to water and more caves below, the awesome shapes, and the sheer amazement that all this has been developing deep in the earth over millions of years.  There are two chambers, with the lower one accessed by boat.  I felt we were in a gondola being steered through a magical land of wonderful colors and shapes.  God is the ultimate artist.
I have been to some amazing places in the world, but nothing compares with this.  It took my breath away.  If ever it becomes possible to visit the Middle East, put Jeita Grotto near the top of your 'must visit' list.
The last part of our day, including a meal out together, was spent in the ancient city of Byblos up the coast to the north from Beirut.  It is an ancient port, some think about 7000 years old, and still with many examples of ruins from Roman times.  We walked narrow streets and many managed (at last) to find small gifts to take back to friends and family.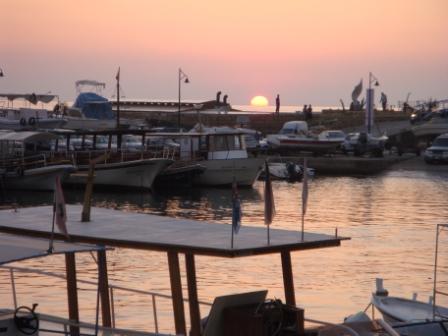 We found ourselves at the harbour area as the huge red ball of the sun was dipping below the horizon. It was very beautiful.
We were tired for our journey back to Beirut but because we were in the late evening travel time was almost halved.
Tomorrow is our last day. (We set off for home first thing on Thursday.)  We are visiting Baalbek in the Becaa Valley.  It was made a World Heritage Site in 1984, and UNESCO said of it:"Baalbek, with its colossal structures, is one of the finest examples of Imperial Roman architecture at its apogee."
We will get a special insight into how Rome dominated this whole region for centuries.  It will be a remarkable final day.
Northern
Seminary
410 Warrenville Rd, Suite 300, Lisle, IL 60532
(630) 620-2180

Request Info
Ready to start your seminary Experience?
Apply Now