Celebrating What God has Done
By: Northern Seminary
Alison and I have been many places in the US, but are often guilty of missing 'fly over' states, so we took a road trip west for our summer vacation.  We covered many miles from Illinois right out through Colarado to Utah and up to Wyoming.  We spent time in some of the most beautiful places in America including several national parks.  Our longest time was in Yellowstone National Park.  We were there less than four days and wish it could have been four weeks.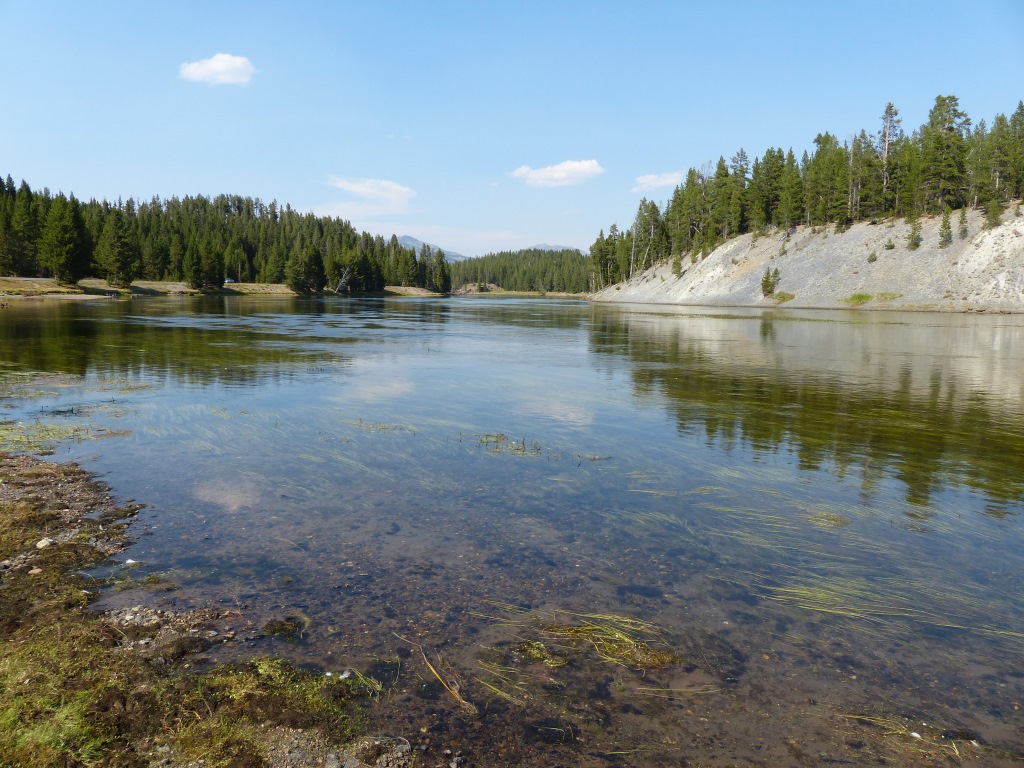 I've included several of my photos for your entertainment and also because I want to make two points.
I knew about the geothermal areas before visiting, but I had not fully realized that large parts of Yellowstone are considered an active volcano.  You don't have to be there long to see the signs.  Mud pots bubble, geysers erupt, colorful pools of water boil.

In many areas visitors are ordered to stay on boardwalks, with signs everywhere that the ground nearby is very thin.  Step off and you could disappear and not come back.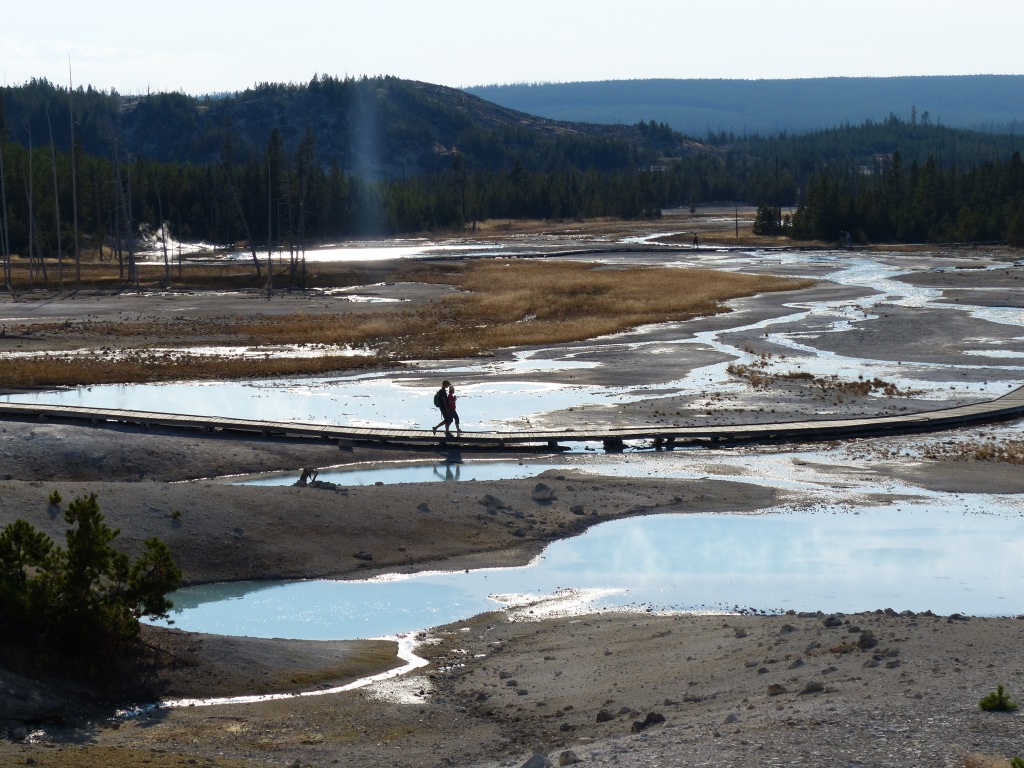 But equally amazing and, for me, more wonderful is simply the natural beauty all around.  The hills are not awesome like the rugged Grand Tetons, but I love wood-covered mountains, rivers running through valleys, occasional dramatic waterfalls, and meadows covered in grass or flowers.  There were flowers less than half the size of my finger nail, and I have never before seen a flower so tiny.  All the scenes were magical.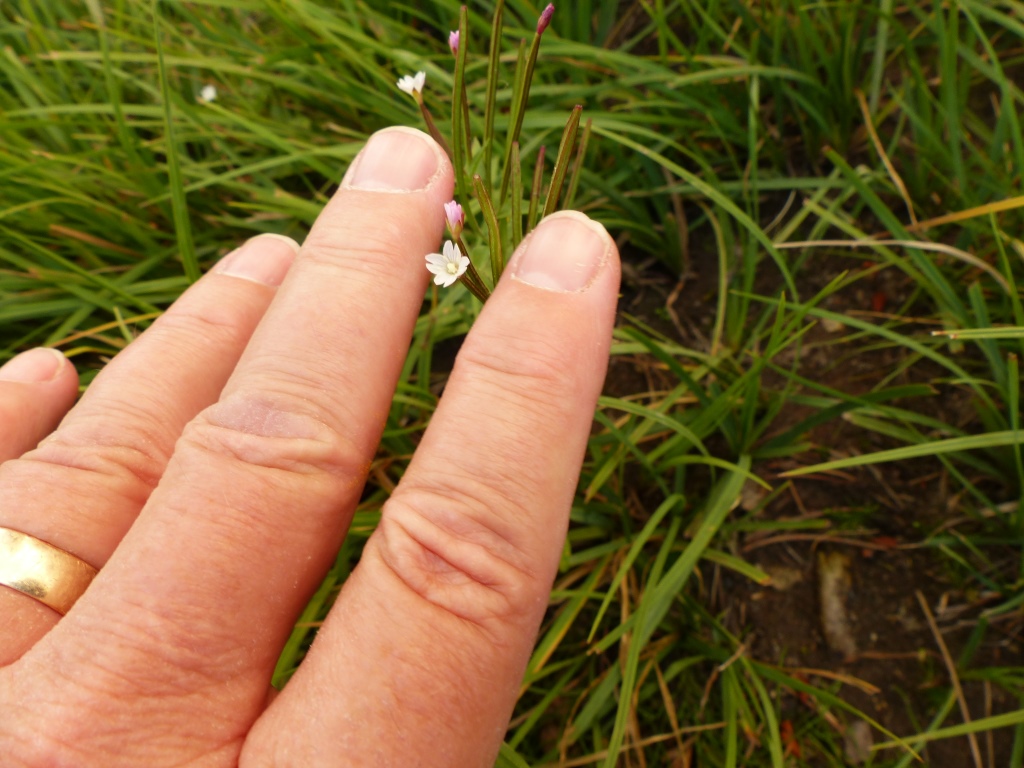 We loved the wildlife too.  There was no opportunity to shake paws with a bear, but plenty moments to get as close as anyone should with bison, including a slow overtake of one with British instincts (it was marching up the left side of the road).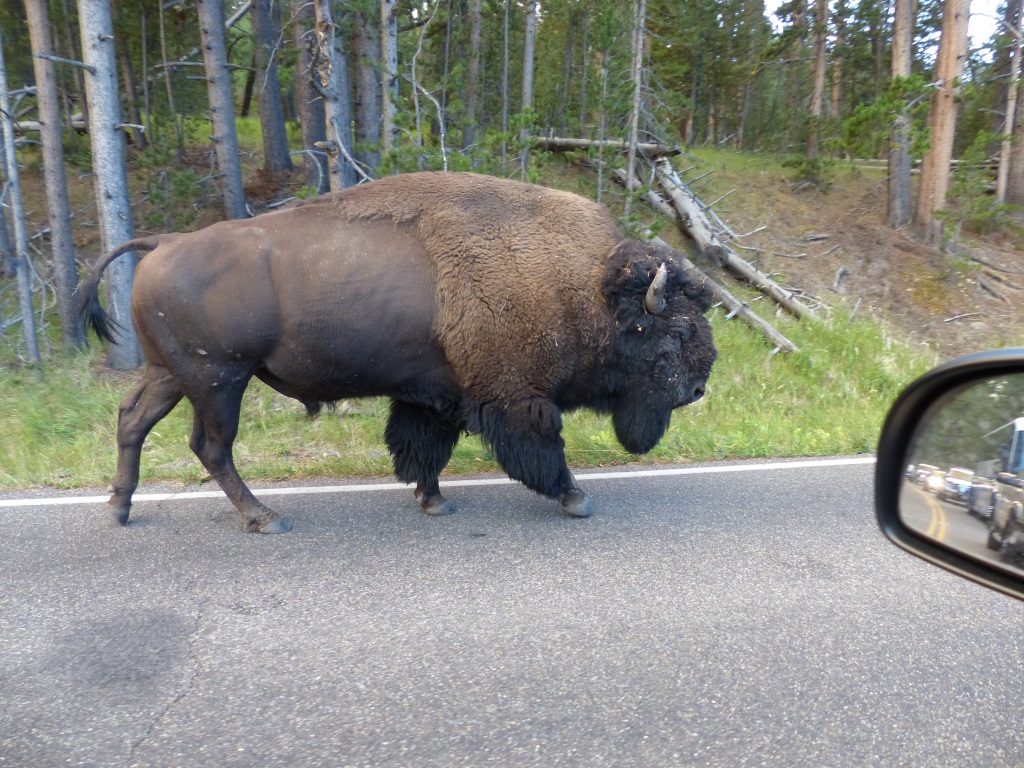 Lots of deer, pronghorn, coyote, eagles, chipmunks, squirrels, crickets, dragonflies, and the unwelcome small, biting kind of insects.
Here is my first point.  More than we do, we need to pause, look around, take a deep breath and say, "Thank you Lord for such a beautiful world."  Our artistic, creative God has placed us in an awesome world.  Not everyone will go to a national park.  We don't need to.  Thankfully the majesty of God's creation can be seen anywhere in flowers, trees, animals, birds, butterflies and (even) the flat plains of the midwest.  God's work is all around us and our eyes should be open to see its beauty and our hearts to worship its creator.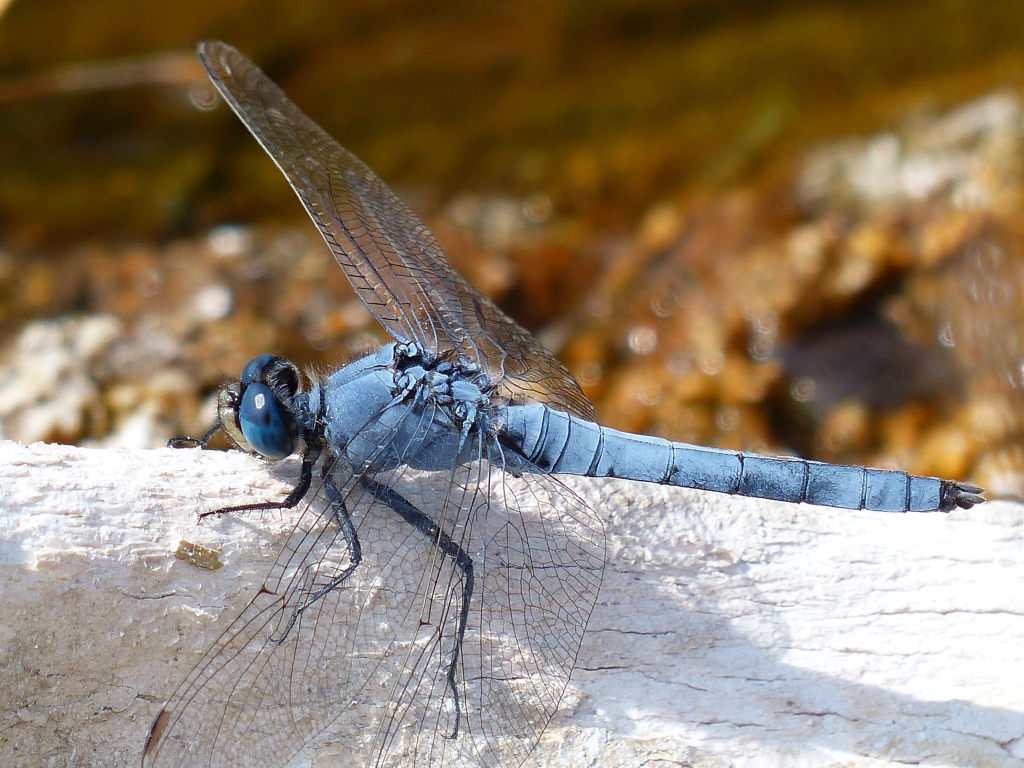 That brings me to the other point.  I didn't mind the fact that there were large crowds in Yellowstone. After all, I am part of someone else's large crowd!  There was plenty room for all.
But many seemed to be rushing from one novelty geothermal feature to the next.  I heard people saying, "We've only got ten minutes to get to the next geyser which is expected to erupt," and others ticking off their list of strange volcanic novelties.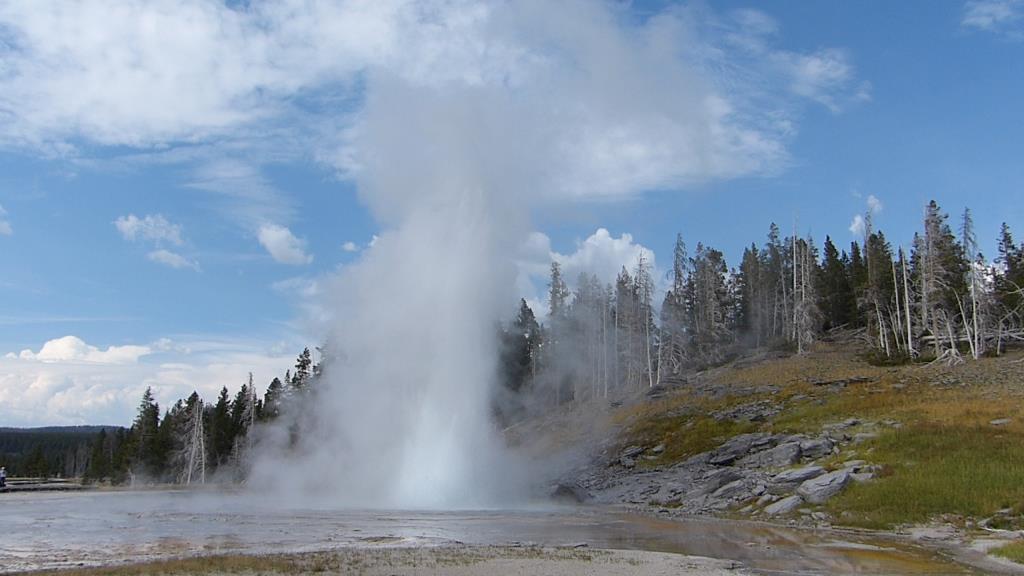 They were doing nothing wrong.  Unless, that is, they were forgetting to open their eyes to the lake, the streams, the trees, the hills, the flowers, the insects, the animals large and small.  I understand that the unique thing about Yellowstone is the way the earth's inner core breaks through the surface.  That's exciting.  But so are the things all around, things which are there every day, and which display the glory of the Creator, our Heavenly Father.
We loved our vacation yet we're also happy to be back in very flat Illinois.  God is everywhere and at work everywhere, and that certainly includes Northern Seminary.  I spent part of today re-reading every story we have posted over many weeks now telling how God has used our alumni to change lives. Now we are on the point of celebrating our centennial.  One hundred years of fantastic work in preparing Christian leaders, and a deep sense of calling and empowering as that work continues.  I will write more about that very soon.
Northern
Seminary
410 Warrenville Rd, Suite 300, Lisle, IL 60532
(630) 620-2180

Request Info
Ready to start your seminary Experience?
Apply Now