Church and exploring Beirut Sunday June 12
By: Northern Seminary
It felt a minor triumph to have slept until 5.20 a.m.  But it is hard ever to feel joyous about getting up at that time when you know your body clock is at 9.30 p.m. and just getting ready to feel tired.  My companions all had some version of the same experience, but surfaced in good time.
We have excellent accommodation at the Arab Baptist Theological Semin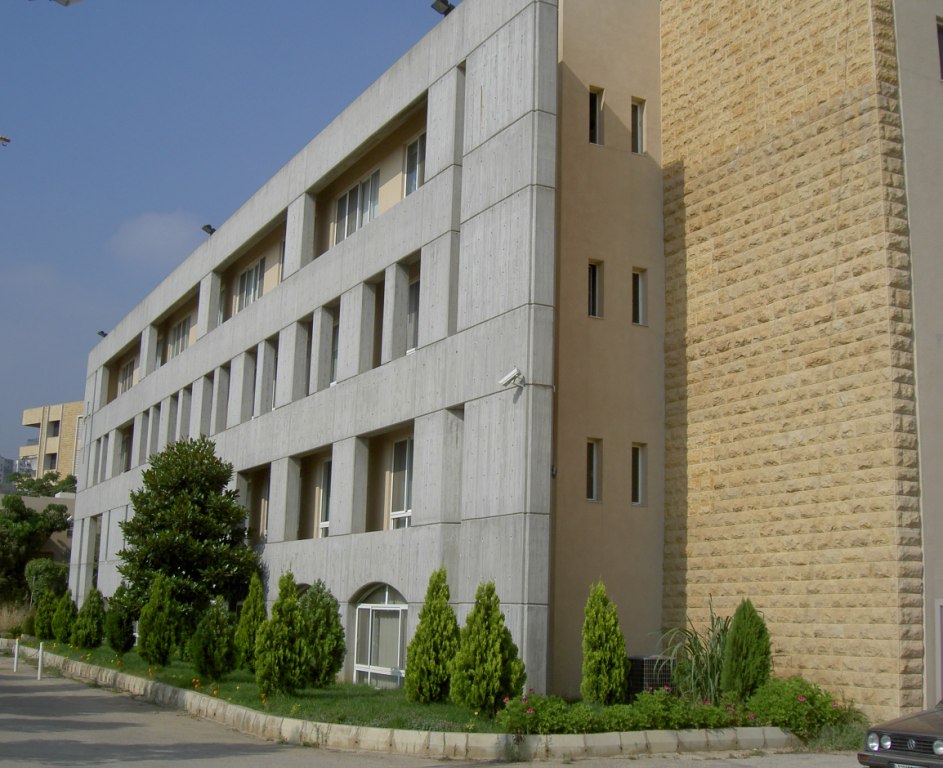 ary.  The rooms are clean and smart with comfortable beds, desk space, good closets and the usual bathroom facilities.  With most sharing 2 or 3 to a room, there are challenges about deciding the right order for morning showers.  Finding that a companion snores is a deep test of sanctification.  "And you think you don't?" is the best reply to any complaint.
Breakfast was cold meat, Lebanese bread, hard-boiled eggs, and then we were off to three churches for morning service.  The students went to two different places where the style was relaxed, contemporary and they fitted in with their smart but casual clothes.  My church was not at all like that, and I was dressed in my best dark clothes, white shirt and subdued tie.  It is one of the most conservative evangelical churches in Lebanon, and I had preached there back in 2003 so went prepared.  Men and women sit on different sides of the sanctuary.  Women keep their heads covered during the service.  The only music accompanying the singing is from an organ.  Different.  Yet the people could not have been more welcoming; the service was full; many young people attended; the Arabic songs were sung with joy and passion; the sermon was lively and challenging.
I was with Nabil Costa and his wife Lena.  I have known them for many years, and never failed to be impressed with their Christian ferven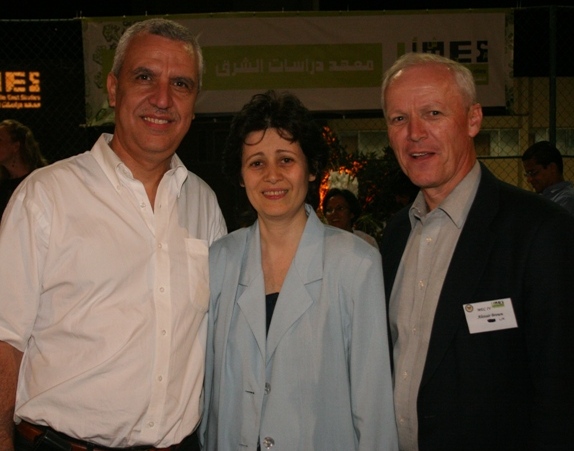 cy and warm hospitality.  Nabil made his personal commitment to Christ during the Lebanese Civil War.  He built an impressive career with Eastman Kodak, covering the Gulf region as Marketing Development Manager.  But in 1998 he let it all go to become the Executive Director for the Lebanese Society for Educational and Social Development, the umbrella organization for several Christian ministries which includes the seminary, a school and a publishing house.  These days the work extends well beyond Lebanon.  Lena uses her great musical gifts in several ways, as well as facing all the demands of their two lively sons Nicholas and Christopher.
Afterwards Nabil hosted all of us – gathered back together from the three churches – to an impressive lunch at a restaurant which looked out over the city from high up the hill.  I watched the students' eyes grow larger as plate after plate of food arrived.  More and more dishes kept coming, and we tasted some of this and some of that.  Lots of new experiences. Then, just as people were sitting back feeling quite full, our plates were replaced with larger plates.  "Have we just had the appetizer so far…?!" someone whispered.  Almost.  Now came the barbecue chicken.  And when we'd finished that along came sumptuous fruit, perhaps fresher and tastier than any of us had known.  We will not normally be eating like we did at Sunday lunch, but it was a very wonderful experience.  Returning slimmer does not have a high probability.
The chances of seeing anything of downtown Beirut may be precisely two afternoons, so we took today's opportunity to walk some of the streets and to see the Mediterranean close up.
We were left to walk from right beside the old 'green line' – it divided the warring factions in the Civil War.  We were told the church there was 1850 years old which it certainly wasn't unless parts of the Roman-looking foundations beside it have that vintage.  The building as it is today may date from 1850, so perhaps there was a translation issue.  Another church we visited was 450 years old, though that is relatively young in this part of the world.
After that we were in streets and a mall probably less than 10 years old. Somehow – I promise it was not planned – we were among the high end stores.  We really did not shop at Luis Vuitton or Rolex, though one or two had to go in and look.  Locals told me afterwards those shops get their business from tourists.  There are plenty top rated hotels around because Beirut is a middle-east resort for wealthy people in the region.
We were determined to reach the sea but it involved walking along a path through a building site.  The value of shoreline land is undoubtedly astronomical.  We got to the water, or almost got to the water.  There was no way right down, but we will visit Tyre in a few days and I am told paddling in the Med is possible there.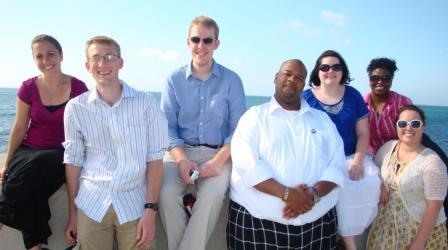 Not a single person was hungry, but our transport took us back to the seminary in time for 6.00 dinner.  Most of us managed to eat – just politeness of course – and afterwards we got together to share the day's experiences and to pray, something we will do every evening we can.
Northern
Seminary
410 Warrenville Rd, Suite 300, Lisle, IL 60532
(630) 620-2180

Request Info
Ready to start your seminary Experience?
Apply Now