Doctrine and culture Tuesday June 14
By: Northern Seminary
The rain began last night, and it was still coming down as we headed for breakfast at 8.00 this morning.  Very unusual for this time of year.  No need to bring an umbrella, we had been told.  Hmmm.
There were noticeably fewer taking breakfast this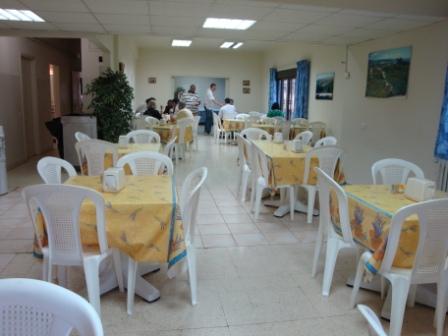 morning.  The cafeteria is packed for lunch and dinner during this conference.  Queues for food, and every table filled.  But not at breakfast time.  Plenty empty seats.  Many flew here in the last day or two and jet lag is taking its toll.  Two of Northern's students were among them, deciding an extra hour in bed was more important than the egg, meats, cheese, bread and jam on offer.
After breakfast I buried myself in complications sorting out internet access.  If you have puzzled that this daily blog has not been appearing exactly daily, please have patience and sympathy.  I did not have internet access in my room, and finding a corner where I could get online was problematic.  But I got it sorted.  Well, not first time. Not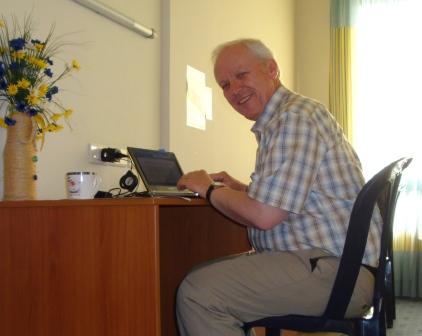 second time.  But once I got help from the local experts, all was well.  In my past life with a mission society and visiting some very remote places, I cannot begin to count the number of times I was up until 1 or 2 in the morning still trying to get online in a country with unstable and uncooperative phone lines. I had colleagues who carried their own tool kit including a screwdriver to undo telephone junction boxes and small crocodile clips which went on the blue and red wires.  Or was it the green and yellow wires?  Here, at least I lost less than an hour getting connected.
I made it for all the main sessions of the day.  We tracked various religious trends around Africa, but again I will not get into detail out of respect for the privacy of the lecturers.  Let me tease you by saying it was fascinating with more than a few ideas running contrary to popular history.  The ABTS web site has some information on speakers and photos of the conference: http://www.abtslebanon.org/
I enjoyed lunch in a nearby restaurant with Alia Aboud who heads up partnership connections for the work of the Arab Baptist Theological Seminary and other ministries.  I got to know Alia when I was here in 2007, and in travels all over the world I never met a more gracious, helpful and competent person who ensured everything was how I needed it to be.  She has a strong sense of call to this work, which is just as well as often the hours are long and the work demanding.  She is one of my special saints.
In the late afternoon we were given a break from speaker presentations with the showing of the movie "Of Gods and Men".  It must be one of the slowest moving films I've ever seen but once you are five minutes in you have to keep watching.  It is set in Algeria in the 1990s when isolated communities were being terrorized by murderous rebels.  A small group of monks have to decide to stay or leave, to guarantee their own lives or remain with villagers who have nowhere else to go.  After the film, the immediate conversation line was "What would you do?"
At 8.30 this evening we started on the final main session of the day.  There were perspectives from Islam and Christianity on various topics, but the subject which gripped me and many others centered on doctrine and culture.  How does culture shape our doctrine?  When does doctrine beat culture and make us act against society's norms?  That's a hard subject anywhere, and probably especially when you are proud of your culture or if you have no idea it is coloring your thinking.  Will it surprise anyone to say we did not get to all the answers?
Our late night debrief was really late night, so not drawn out.  Still plenty new thoughts to process.  But everyone is tired.  "How can we be so tired sitting still in a conference?" someone asked.  Quite easily we agreed.
But we finished with a short discussion on how much beds creaked when people turned over.  With most sharing rooms that's a sleep disturbance issue.  Doctrine and culture matter, but so do creaking beds.
Northern
Seminary
410 Warrenville Rd, Suite 300, Lisle, IL 60532
(630) 620-2180

Request Info
Ready to start your seminary Experience?
Apply Now