First Week
By: Northern Seminary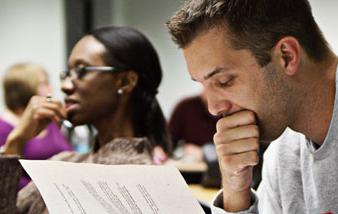 For me the first week of fall term brings a curious mix of excitement and trepidation. The negative part of that is small, just the usual wondering if we're as well prepared as we think we are, whether everyone will show up for their classes, and if the year will be as good as we hope. Each academic year has its own character, so only a brave person promises this or that will happen.
The positive side – the buzz of seeing new and returning students – is by far the dominant emotion. Those who are starting often wonder what studying theology will be like, how they'll cope, which subjects they'll enjoy most, how they will relate to faculty, whether they will make new friends, and even if they'll find their way around. The returnees have different issues, often enmeshed in their other areas of work or family life, but usually also with a deep thrill at getting back to study and classes and being near to graduation.
I find it all very stimulating. It is great to have students around in large numbers, fascinating to learn their stories and share in their dreams. I love to see what God is doing in people's lives, how they are exploring his call and becoming equipped for Christian work. The preparation is an adventure and one that is very important. These are people getting on with God's purpose for their lives, and how well they do that will impact hundreds and probably thousands of others. This matters.
We have only one or two big opportunities in the year to talk about all that. One is coming up soon, our Founder's Day dinner. We still have space for more to join us, so let me encourage you to come.
All the information is on our web site – http://www.seminary.edu/event/2010-10-08-founders-day/
Our speaker is Dr. Michael Quicke, Charles W. Koller Professor of Preaching & Communication at Northern Seminary. Because we are both from the UK, I have known Michael for many years. He is a man of high integrity, deep knowledge, and great wisdom, as well as being a wonderful communicator. During the dinner we will share more news of how Northern is helping people become the best they can be to fulfill God's calling on their lives. It will be a wonderful evening. Please come.
This fall we have more students taking more classes than they have for many years. Our curriculum is developing too, with several new initiatives in various stages of development. There really is a buzz about the place. I'll try to keep you well informed as the weeks go by.
Northern
Seminary
410 Warrenville Rd, Suite 300, Lisle, IL 60532
(630) 620-2180

Request Info
Ready to start your seminary Experience?
Apply Now