Graduation Day! Sunday June 19
By: Northern Seminary
First thing this morning I made a friend in the corridor right outside the door to my room at the seminary.  He was impressively dressed and had excellent posture.  I think he was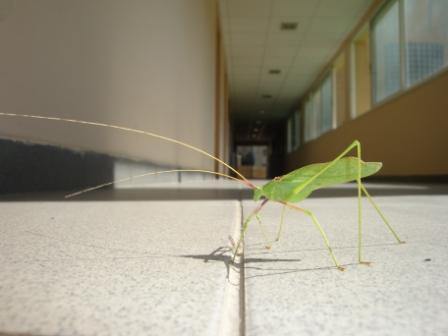 enjoying an early breakfast.
Through the quick research of my wife, Alison, I now know his likely family background.  He is from the Tettigoniidae insect family, suborder Ensifera, known in America as katydids and UK as bush cricket.  They can be distinguished from grasshoppers by their very long antennae and they have shapes and colors similar to leaves.  Apparently there are several thousand varieties around the Mediterranean area.  It is good to know.
He was not the slightest bit bothered by my photographic efforts.  Good looking and with real star promise he just got on with his business.
Like last week our group went to different churches but this time only to two locations.  I commiserated with those with me for they would hear me preach.  They came all the way to Lebanon, and it is their President speaking?  They were kind.  They assured me that after a week of many messages in Arabic, being able to relax in English was a nice thought.  Good students these.
Church was just a mile or two up the hill, and in fact in the grounds of the orphanage we will visit on Tuesday.  There were a good number at the service, all in relatively casual clothes.  The worship style was 'contemporary' with keyboard, guitar and electric drums.  If you had been unable to hear the Arabic words and music you might have assumed you were at many of today's churches in the west.  Yet the songs were Arabic in style, and so was the way people participated very strongly.  No half-hearted singing here.
The pastor had just returned from San Francisco where he had attended a church planting conference.  He reported on it and was clearly moved and excited.  He shared some dramatic stories during the service.  Feeling jet-lagged, he had delegated the responsibility of translating my sermon into Arabic to Naji Daoud.  I have met Naji on previous visits here, particularly in connection with SAT-7 satellite TV broadcasting.  He speaks great English.  With him it was easy to develop a preaching rapport, a rhythm with short sentences that avoids pauses and keeps the listener engaged.  I have preached in many countries of the world.  In the past and again now Lebanon has been my best experience with translators.
People seemed grateful for the sermon and that we had come to worship with them.  Now, with the service over, it was time for cake!  It is Father's Day and I was warmly congratulated with "Happy Father's Day" by people who had no idea if I have children (I do – and hear reports from home that at least some have sent cards).  The celebration now was by consuming either or both kinds of two delicious large cakes, and everyone poured out to enjoy it in the shade of the entrance way.
All the Northern team were invited back to lunch at the home of Rosette Mansour who has been our main organizer on behalf of the Lebanese Society.  With her son and daughter she lives in a beautifully decorated apartment perched on the steep side of a hill with a view from the veranda out over downtown Beirut.  Two of our group had opted to use the afternoon to travel to see a major area for the cedars of Lebanon.  They reported later that the spectacle was magnificent.  It had been almost overwhelming to sit in the shade of a tree that could be 2000 years old.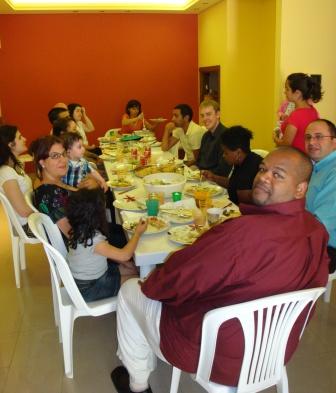 We reported to them – with complete honesty – that our lunch at Rosette's home was also magnificent.  Several other guests were there as well as us, and she had gathered enough tables and chairs so we could all sit together.  Large dishes of fabulous food appeared, and we passed them up and down until everyone had eaten much more than enough.  The gift of hospitality is very highly developed in Lebanon, and we are very happy recipients.
All the younger people present seemed to congregate afterwards on the veranda.  All the older ones found themselves together in the kitchen.  No surprise about that.  But everyone had to head off before too long for tonight is the Arab Baptist Theological Seminary's graduation service.
Back at the seminary I spruced myself up with tie and jacket, just as well as I found myself ushered to the front row of the hall to join dignitaries and honored guests.  I was seated beside my friend Nabil Costa who was to give the commencement address.
It was an impressive service in every way.  Nabil spoke very well, as did two of the about-to-graduate students.  A student choir sang.
Then came the nine graduates, women and men, to receive their Certificate, Diploma,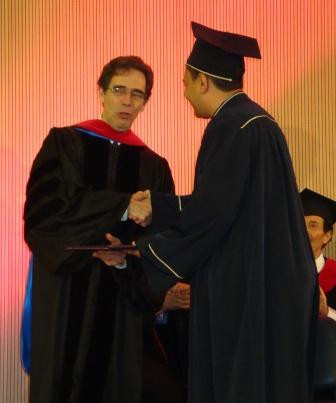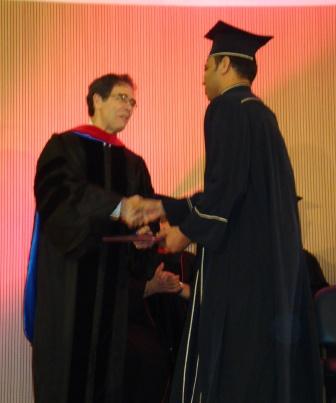 Bachelor's or Master's degrees from Acting President Rev Dr Paul Sanders.  They smiled broadly, friends cheered, everyone clapped and they proudly moved their cap tassel to the graduate's side.  It would be inappropriate to tell you the very private backgrounds of these people, but they are very committed servants of God for whom we should pray constantly.
After the service – which lasted less than an hour – everyone gathered in the rear courtyard of the seminary.  Graduating students and faculty members formed a line and greeted every visitor. Refreshments were served and conversations continued long after the light had faded.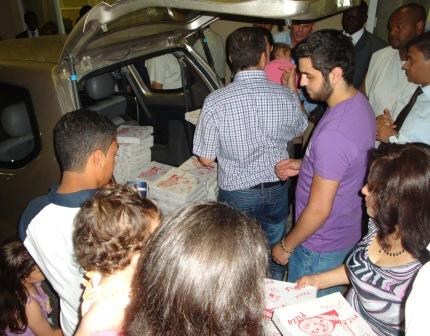 When most people had gone, tables were laid out and all those living or working at the seminary enjoyed pizza.  From Chicago to Beirut – for pizza.  Someone had filled the rear of their wagon-style car with box after box of pizza, and an eager crowd formed to make sure they got their first choice of flavor.  Not much orderly queuing!  Those more discerning than me told me afterwards the definitions of pizza were not what we are used to.  But with pizza, and a lot more besides, being different is not wrong it's just… different.
What a good day it has been, and we are genuinely excited for these graduating students who have already become very dear friends.
Northern
Seminary
410 Warrenville Rd, Suite 300, Lisle, IL 60532
(630) 620-2180

Request Info
Ready to start your seminary Experience?
Apply Now