Last day of the conference Friday June 17
By: Northern Seminary
The number of breakfast casualties continues to mount.  Tiredness is not the only explanation for the lower turnout in the cafeteria.  A number seem to have headed off early, so there were also fewer in the conference hall when we gathered later.
I was delayed because of things I had to clear before the weekend, but I was told the opening worship time was as lively and exciting as it has been all week.  Definitely the most active part of our day.  The upbeat tone does not squeeze out Bible study, and I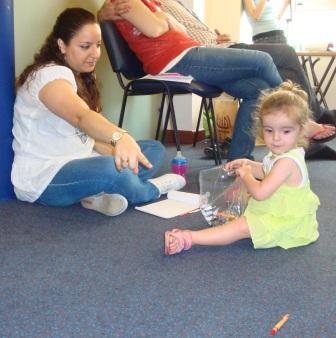 arrived for the start of the next session to find the study was still continuing.  Shock / horror – the worship or preaching had run over time.  Perhaps there are some things that really are universal.  Nothing bothered one of the younger conference attendees who continued to charm anyone and everyone around her.
One of the later speakers told a delightful story about moving from a hot, African country to live in the UK.  Not too long after the family's arrival, his 5-year-old son slipped out of the house unnoticed on a bright, sunny but crisp 'autumn' morning.  He was wearing little clothing, and he was soon shivering and crying.  Someone brought him home where of course his parents were concerned that he'd gone out.  The little boy explained that it had looked so bright outside, but that in Britain "the sun does not work".
Perhaps – as a Brit – I should not tell that story.  But it made me laugh, and the speaker used it cleverly to make a point about contextualization, that what we assume is the case in one situation is not necessarily the case in another.  Good illustration.
The final talks had plenty substance as well as good stories, and a lot of the afternoon time was given to opportunities to question the week's speakers on anything at all that had been raised during the conference.
I also spent time talking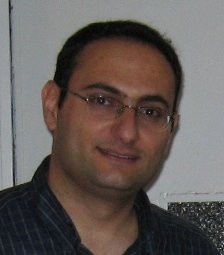 with some of the staff of the Arab Baptist Theological Seminary.  One of those is Dr. Hikmat Kashouh, the Academic Dean.  I have known Hikmat, and his wife Christa and their children, for several years.  He is Lebanese, of course, and decided that his work of teaching meant he had to study for a PhD, and that brought him to the UK and to Birmingham.  The missionary society with which I used to work had its own training college in Birmingham right beside the university, and we were able to provide Hikmat, Christa and the children with accommodation for the three and a half years of his study.  We talked together then many times, and used Hikmat on occasion to give lectures.  He is a first rate communicator in English as well as Arabic.  It was a great thrill today to sit in his office here in Lebanon and see how important those years out of Lebanon were for his work today.  Please pray for him and his family.
The conference drew to its end in respect of official teaching, and that left only the closing banquet!
Tables were set out in an area behind many of the buildings.  Plenty room for the seating, the food, a screen to project images of the conference, and even an area from which a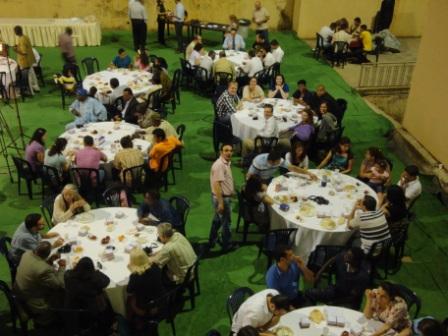 microphone could be used.  In Lebanon you think how you can use your outdoor space as much as your indoor.  The biting insects like people doing that too.  Northern gathered at one table on this occasion – they are at the third table up on the right hand side in the photo.
The meal was great and we laughed and talked together.  Then Dr Martin Accad, who has headed up the conference, got everyone's attention, and announced that a song by Northern students was the first item on the program.  I was very proud of our team as they got up confidently and sang "How great is our God".  One of the local ABTS people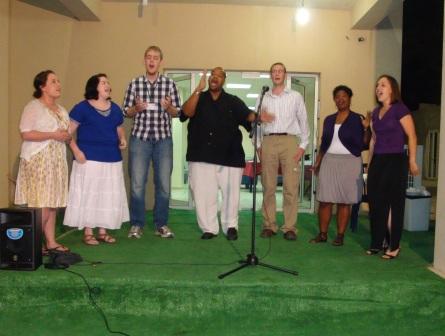 accompanied on the piano, Daymont gave a lead, Lauren provided a solo part, everyone sang in great harmony.  At the end of a meal with still some distracting noises off to the side, it was not an easy setting but I saw people getting caught up in worship, and that is what matters.  They got great applause when they finished, as rightly they should.
Most headed off to bed not too late tonight.  We have a long day tomorrow with a visit to Tyre in the south.
Northern
Seminary
410 Warrenville Rd, Suite 300, Lisle, IL 60532
(630) 620-2180

Request Info
Ready to start your seminary Experience?
Apply Now