Nairobi Impressions
By: Northern Seminary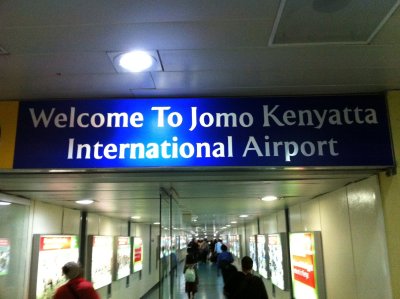 We arrived at Jomo Kenyatta International Airport at the wretched hour of 2:00am local time.  The first thing that I noticed when deplaning was high humidity — when our plane rolled to a stop on the tarmac, the exterior windows immediately beaded with condensation.  Inside the airport, there was no air conditioning, further heightening the impression of sticky weather.  We were met at the airport by two cheerful Kenyans, Jerred and Nyabundi, who oversaw the loading of our luggage and whisked us to the hotel over wide, smooth highways, complete with lines and traffic lights. (Something often lacking in Addis Ababa.)
My first impression of oppressive humidity was relieved when we stepped out of the hotel early in the afternoon after catching a few hours of sleep.  The rainy season had ended just over a month ago, and the weather has remained clear and cool with pleasantly warm afternoons since our arrival.  Having been acclimated to the Ethiopian distinctives of Addis Ababa over the past week, Nairobi comes across as a much more cosmopolitan, even European, city.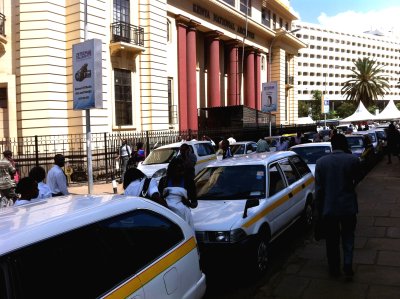 Having been a British colony from 1890 to 1963, Kenya retains much of the British influence, from having English as the official language to regularly serving tea, though Kenyan tea is boiled in milk and water and is often served already sweetened.  In spite of having English as the official language, I find myself straining to discern the words through the Kenyan accents.  Ordering in restaurants yields some surprising results, especially the fish and chips that included the entire fish — tail, eyes and all.  And, to American eyes, there is some whimsy to be found in the signage: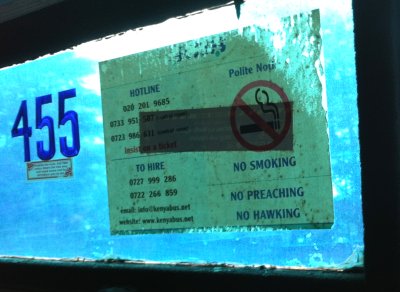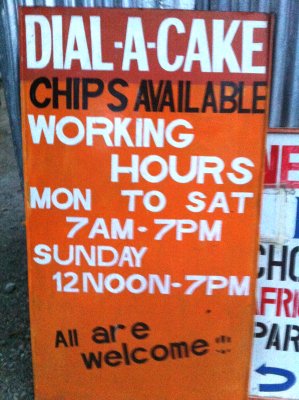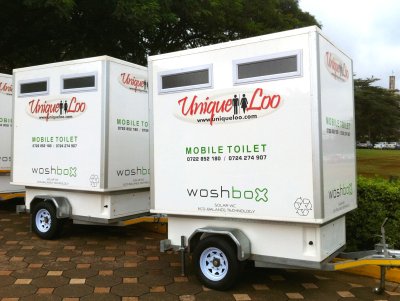 After the uncontrolled flurry of traffic in Addis Abbaba, Nairobi traffic seems much more familiar. (Though Americans remain at high risk of being killed when stepping off curbs as Kenyan traffic follows British patterns when it comes to which side of the road to drive on.)  As a Chicagoan, it would have been difficult for me to imagine a rush hour that is worse than exiting off The Circle during rush hour, but Nairobi gridlock is easily worse than anything in Chicago.
While this may not count as a first impression, we received an excellent bird's eye view on our second day in Nairobi when we visited the Kenyatta International Conference Center:
From 30 stories up, one can stand on the helicopter pad atop the building to get a 360-degree view of Nairobi as it stretches out on all sides.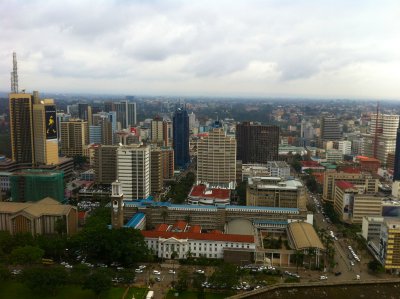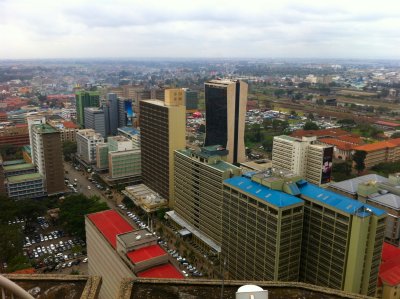 Our tour was led by a cheerful and gregarious guide, Peter, who easily equalled the theatrics of African-American preaching during his delivery of information about Nairobi. I promised I would put a picture of him in his "office" on the Internet, so here it is: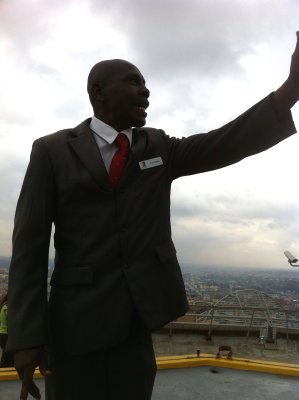 Since others have been fair game for my pictures, it is only fair play to conclude by posting a picture of me, pre-sunburn.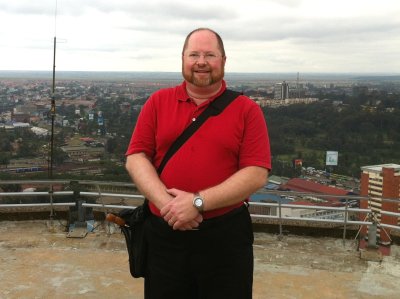 Northern
Seminary
410 Warrenville Rd, Suite 300, Lisle, IL 60532
(630) 620-2180

Request Info
Ready to start your seminary Experience?
Apply Now