New Use for an Old Tomb
By: Northern Seminary
This post is coming out of order, but it was such a unique experience, I have been wanting to share it when I could.  These pictures are from an excursion that we took in Addis Ababa last Friday to the Holy Trinity Cathedral.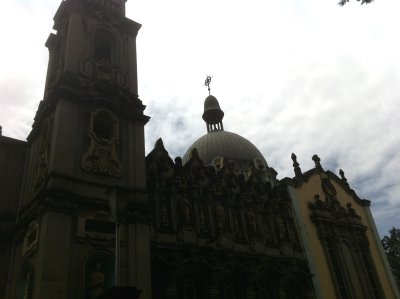 It is one of the most significant churches for the Ethiopian Orthodox Church.  In Amharic, the name of the church is Kidist Selassie, and it is the burial site for Emperor Haile Selassie (whose name means "power of the Trinity").  There are extensive burial grounds around the cathedral which, in Ethiopian fashion, are all above-ground mausoleums.  It was a tradition in times past for the nobility to have especially large tombs built for themselves with the intention that the structures would also provide a place for the homeless to find shelter.
IHAUDP has been working with the Ethiopian Orthodox Church to reach an agreement on a shared project.  The Holy Trinity Cathedral grounds include a large tomb that was constructed but which was never used and therefore has been allowed to fall into disrepair.  IHAUDP is providing the funding and project oversight necessary to restore the historical building with the agreement that the homeless will once again be allowed to shelter there.
As the following two pictures illustrate, there is a lot of work to be done to restore the building: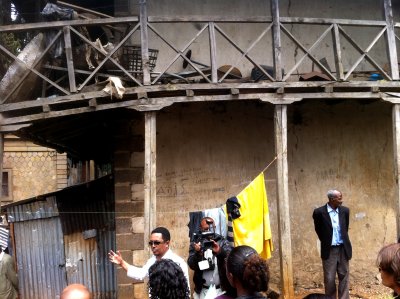 Unfortunately, my pictures from the inside of the tomb did not turn out, but the interior is in much worse shape than the exterior. (Again, this was a tomb that was never used, so there were no complications of relocation of remains involved in this project.) As we completed our tour, one of the priests came out, and we prayed together to dedicate the building to the continued service of the church and of the poor.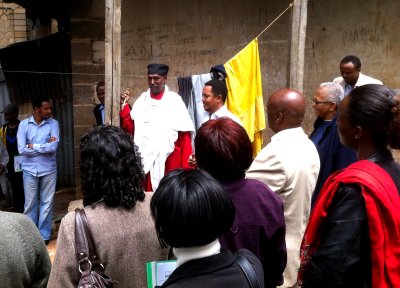 Northern
Seminary
410 Warrenville Rd, Suite 300, Lisle, IL 60532
(630) 620-2180

Request Info
Ready to start your seminary Experience?
Apply Now