Of African Food
By: Northern Seminary
As I prepare to conclude this blog, I have to say something about all the wonderful food that we enjoyed during our time in Africa.  Everywhere we went, our African hosts served us not just meals, but feasts.
Something new that I experienced in Ethiopia is a snack called kolo, a mixture of different roasted grains — especially chickpeas — which is highly addictive.  Like almost everything else in Ethiopia, it is traditionally served with strong coffee: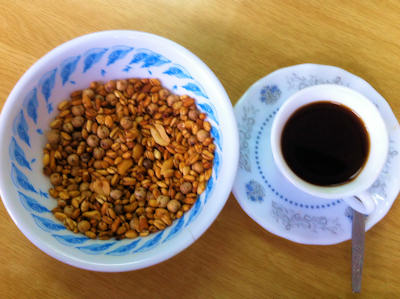 The staple of most Ethiopian meals is injera bread, a stretchy flatbread (like a thick crepe) with a distinctive sour taste, made from teff flour: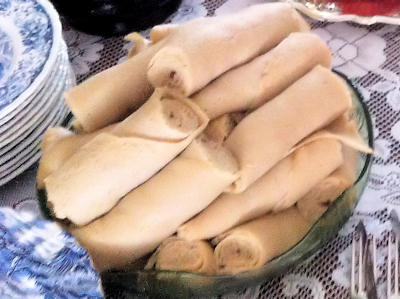 Think of injera as a simple note, and everything that can go with it as a symphony: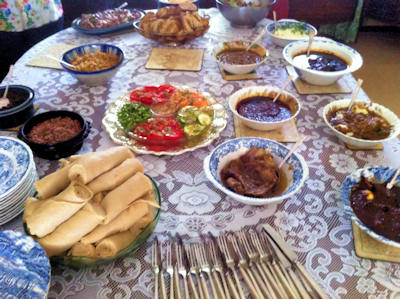 While there are forks and knives in the above picture, they are only there as crutches for Americans, as injera serves as staple, plate, and eating utensil all rolled (literally) into one.  You partially unroll the injera bread on your plate, and you pile dabs of various dishes — wats (stews) and tibs (sauteed vegetables and/or meats) — on the unrolled bread.  Then you tear off pieces from the rest of the roll and use it to gather fingerfuls of the food and put it in your mouth.  Somewhat messy for Americans; Ethiopians eat while carrying on conversations, never breaking eye contact, all without dropping a thing.
In addition to injera bread, Ethiopians also serve many different kinds of whole grain breads, many sweetened with honey, such as this beautiful loaf of ambasha bread served at our farewell dinner at Jember's house: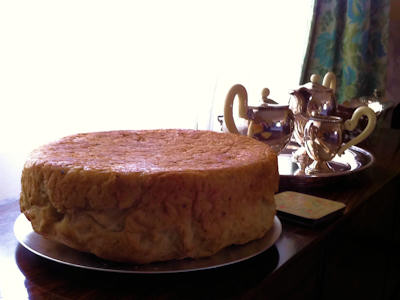 While I would like to say that we completely immersed ourselves in African cuisine during our trip, that would not be entirely true.  One night in Addis Ababa, you would have found us all indulging in a taste of home: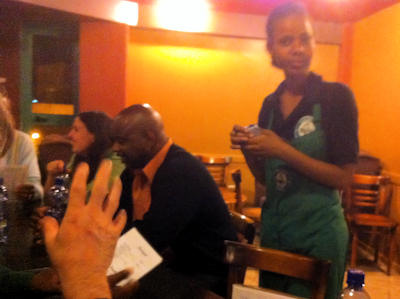 It may look like Starbucks, but it's not: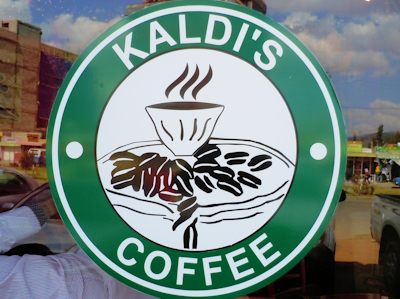 The prices are certainly not Starbucks, either: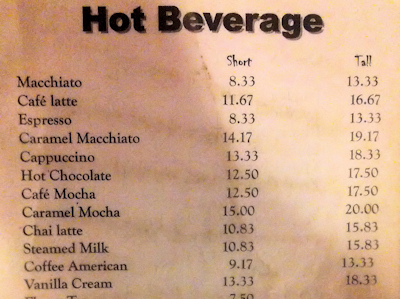 With the Ethiopian Birr running around 17 Birr to an American dollar, that's less than $1.00 USD for a large latté.
This woman works in a bakery in the slums in Kibera, one of the many shops that we saw supported by local churches to provide a place for people in Kibera to work.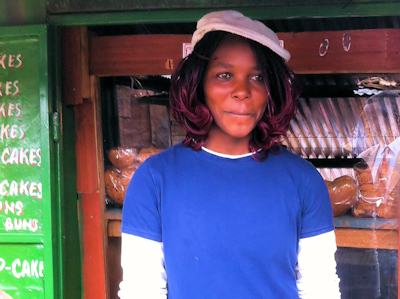 She wanted to make sure that we noticed the mandazi cakes sold by the bakery, a traditional Kenyan sweet bread that is fried.  She was proud not so much of the quality of their cakes, but of what they called them (third name on the list):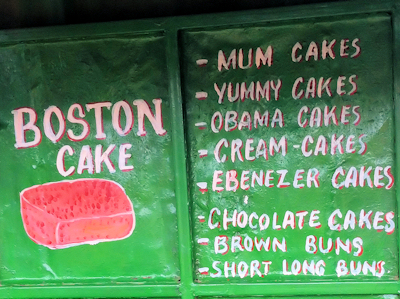 In Nairobi, the Kiberan pastors put together a traditional Kenyan feast for us.  Kenyan food is not unlike Ethiopian food, but it does not include the injera bread — you normally eat it with your fingers without any bread to help you pick it up.  Very messy for Americans!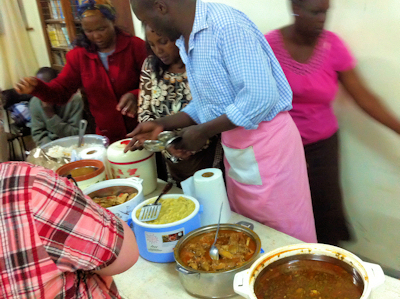 Note the man in the apron.  I have been assured that Kenyan men are wonderful cooks.  They are also not afraid to wear pink.
One of my very favorite things on the whole trip was the Kenyan tea.  I have previously posted my thoughts about the wonders of tea prepared Kenyan style — boiled in milk, with plenty of sugar.
During our three days and two nights at Amboseli, we had amazing food at the Sentrim Amboseli lodge: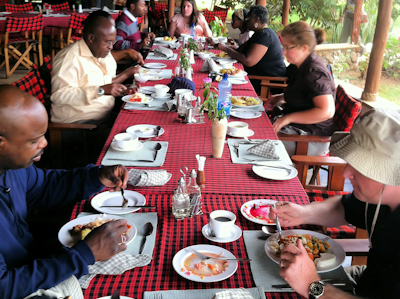 Sentrim Amboseli served food with European/Western palates in mind, so I can't claim that we were eating African-style there, but there were still many traditional Kenyan options available in the buffet line, including some really good curry.  And all the Kenyan tea you could drink!
While there are many, many more things that I could write about from our time in Africa, I hope that what you have read in this blog has at least given you some idea of what our class learned and experienced while in Africa.  I am grateful to all of you who have followed with us as readers, and especially for everyone who prayed for us during our travels.  We all made it home with no major illnesses, no injuries, and no travel accidents worse than one flat tire!  The Spirit of God is at work in the Church in Africa, and it has been a privilege for me to see first hand how the lives of those dedicated to loving God and loving others are making a difference, even among the poorest of the poor.
Northern
Seminary
410 Warrenville Rd, Suite 300, Lisle, IL 60532
(630) 620-2180

Request Info
Ready to start your seminary Experience?
Apply Now