On Puddles and Providence
By: Northern Seminary
This spring I preached in southern Illinois on the Sunday at a conference which ran on into the evening. Alison had come with me. We were tired and glad the local pastor had booked us into a hotel overnight. We slept well and with amazing cheerfulness for a Monday morning we set off upstate the next day. Two visits to good supporters of Northern to make on the way home, but a relaxing time ahead.
We must have been over-occupied in conversation, and after fifteen minutes we realized we had set off on the wrong road. We could have turned back, but instead let our car GPS take us on more direct roads back towards our goal. The medium sized paved road became a small sized paved road. The small sized paved road became a very small sized unpaved road, rather muddy with big puddles. Alison doubted the wisdom of continuing down the road. "No problem," I said, "for it is still listed as a county road and we have a 4 x 4 car. We'll be fine."
For several hundred yards we were fine, but then the puddles got bigger and deeper. We jolted and splashed along, but finally found the deepest, darkest pool on the road and the car sank. The wheels spun, but the car would not move forward. Quickly I put it in reverse; the car would not go backwards. We were stuck.
"Let's just call for rescue," said Alison.
"No need. Let me see if I can fix this."
I opened the car door. Beneath me was only thick liquid mud. Deep breath. "Here I go…" and one foot disappeared under the mud, then the other one. With a deep sucking noise from the mud I pulled them out and made it to the grass on the side of the road.
Almost an hour passed as I tried to jam my plastic traction plates under the wheels. Don't waste money on them. Then came the branches I rammed under wheels. No good at all. Car did not move forward. Car did not move back. The white shirt I put on that morning is the only thing that changed and that was just in color.
Meanwhile Alison had been able to climb out of her side of the car with less of a mud bath. Neither of us had any other ideas, except finally to phone the rescue company. Apparently it would be about an hour before they would get to us. It was a beautiful day, so we admired the countryside, made phone calls to the friends we now know we will be hours late in visiting, talked about past misadventures and hoped this one would be at least a good sermon illustration.
After an hour and a half we saw activity back at the end of the road. Yet the truck in the distance was not coming our way, but something smaller was. As it got near we realized it was a small track vehicle, driven by one man with another sitting in the 'bucket'. Apparently our two cheery rescue men had decided their truck might have got stuck on that road, but they consoled us that we were not the first all-wheel drive they had dragged out of mud that morning, and after us there was another one waiting. The Fellowship of the Mud clearly has many members.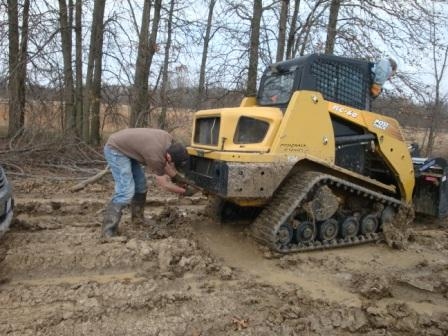 A chain was attached, car put into neutral, and off we go a mere 400 yards to the end of the muddy road. How near and yet how far a paved road had been. Thanks and farewells were said, my shoes cleaned as best I could in the grass, and we started again on our journey. Our unrepentant GPS tried to take us down another unpaved road. We resisted that temptation rather easily, turned round and eventually found a paved option.
After some time we reached a big car wash. We were examining the options for the wash, realizing the only one appropriate was the 'very heavy duty' setting. The elderly attendant came over and looked at our car. He was not big on conversation but was strong on decision-making. "You need a pre-wash." Round the car he went with a pressure hose, getting off as much mud as he could. Then into the wash I took the car. That "very heavy duty" setting fitted the manufacturer's description. But, wash over, our helpful attendant announced, "You need a post wash" and off he set again with another hose. Even then the car was not perfect, but it was the best he or we could do.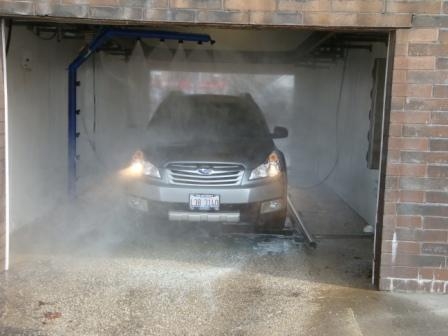 A few miles down the road we stopped for gas. I took the chance in the men's room to put both shoes under a tap. Literally. Water poured over them. No amount of washing could get all the mud off, but it helped.
Finally, hours late we arrived at our first visit. We had kept our friend aware of our problems, so he was still pleased to see us. I said, "I think I'll leave my shoes outside your door." He took one look at them and did not disagree. That visit was filled with important conversation. The same happened when we got to our second visit. This friend had expected us just after lunchtime, and it was now around 7.15 in the evening. He was amazed but grateful that we had still come, and that conversation was also significant. Alison and I sincerely enjoyed both visits very much and were glad to have been able to make them. I was also grateful when we finally got home around midnight and fell into bed.
There are innumerable sermon lessons to be drawn from that day, including 'Never treat a GPS as an infallible guide' and 'Know when to turn back before it is too late.'
Two particularly positive lessons came home to me.
First, we tried to give our muddy lane rescuers something extra for their trouble. They would not take a penny. The car wash attendant also refused anything for himself or for the pre and post washes. These people saw helping out as part of their job, not something done for extra money. So, kudos from me to southern Illinois. Hearing so much on the news of evil, selfish behavior, it is important to be reminded that there are many selfless, good-hearted people around who are happy to serve. Thank you.
Second, we never got despairing or angry through that whole day. We kept a sense of perspective and humor. I learned a lesson on that when I had a vacation job at sixteen clearing two commercial hen houses of hen droppings. Weeks of shoveling that stuff would make anyone pray for the very-soon return of Jesus. But I told myself, "A day is coming when all of this will be in the past." And that day came. Most things pass, and most times the rest of our lives are not damaged. I am not minimizing the very serious things that happen to people, but most difficulties are not like that. Our car got stuck in mud. That really was not a crisis or a disaster. And everything that God wanted done with us that day got done. Praise the Lord.
Heaven is next but not now. This is not a trouble free world. There will be hassles, problems, disappointments. But God is on his throne, and he is always at work for good in our lives, so no need to panic, but trust in him and keep a sense of perspective.
My friends, my colleagues, and especially my wife will remind me that I have written that.
Northern
Seminary
410 Warrenville Rd, Suite 300, Lisle, IL 60532
(630) 620-2180

Request Info
Ready to start your seminary Experience?
Apply Now