Rome and ministry in a tough world
By: Northern Seminary
Some cities can be identified from just a few photos.  Rome usually needs only one.  For some it's the Coliseum: for others it's the Vatican.  And they are only the beginning of a long list of significant buildings in this ancient city where I am this week.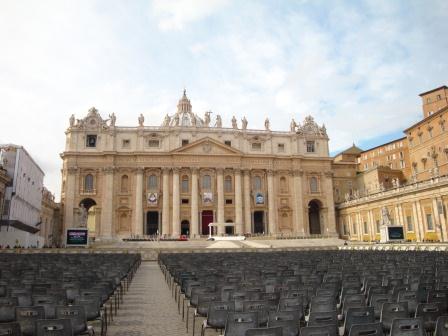 I cannot think of any other city where round every corner I find such awesome architecture.  Amazing buildings, arches, columns, fountains, statues.  Go inside some of the churches and the elaborately and intricately painted walls compel you to stand and stare.  Not all the art attracts me, but the skills of these ancient artists never ceases to amaze.  Water abounds in Rome, and the tourists now abound too as they stare at waterfalls like the Tribi Fountain.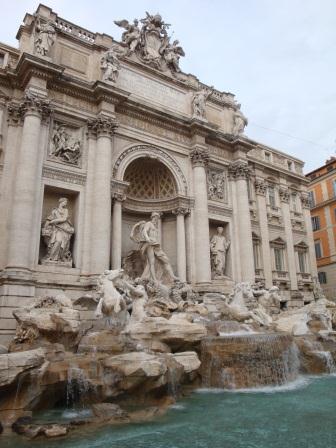 I have been twice before to Italy but only once to Rome.  The industrialized north is very different from the rural south.  The settled calmness of the south attracts me more but might drive me crazy if I lived there all the time.  The north has a buzz with people scurrying everywhere, but dicing with death every time you cross the street isn't the greatest of thrills. Scooters zoom everywhere and park anywhere. The local organizer of the conference I am attending wrote that he was happy to refer anyone who planned to drive in Rome to a counseling service.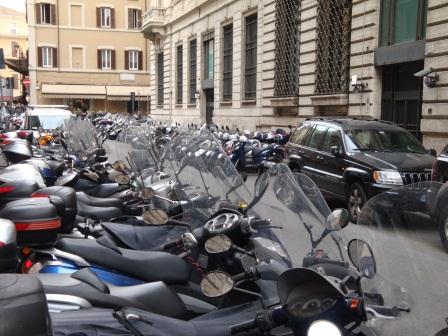 I am the main speaker at the annual conference of the International Baptist Convention. http://www.ibc-churches.org/ Most of those gathered here are pastors or other leaders of the Convention's 75 churches which are mainly in Europe but increasingly spread across the world.  Many of the pastors are American but certainly not all.  About one third of the churches in the IBC network are located near large US military bases, and soldiers or airmen make up most of the congregation.  The other two thirds are international churches, like Rome Baptist Church where I worshipped on Sunday.  Look around the congregation and you see the faces of the world, and you cannot help but realize "This is what heaven will be like".
The overall title for the series of talks I am bringing is 'True grit – effective ministry in a tough world'.  It emerged out of conversation with the incoming IBC President, Rev Sam Owens.  No matter how sure they are of their calling, and no matter how privileged they are about that calling, pastors can feel isolated, pressurized and sometimes disappointed and frustrated.  A conference like this is a chance to step back, take an honest look at things, and find fresh encouragement.
I am now half way through the talks.  The middle two focus on the story of Moses who gave every excuse he could to God why he should not go back to Egypt and lead the Israelites out to the Promised Land.  But it was God's non-negotiable call for him and he had to go.  He had some early success, but then found Pharaoh's opposition was solid and even the Israelites turned against him.  Yet in time God's power brought about an amazing change, and despite all Moses' sense of inadequacy and limited gifts, the people of Israel were led away from Egypt and eventually to the doorstep of the new land God was giving them.  It was hard, and yet God's purposes were fulfilled.
That last sentence sums up the teaching I'm bringing. The first address focused on Paul's remarkably honest words in 2 Cor 1 about "hardships", "great pressure", "beyond our ability to endure", "despairing even of life", "feeling the sentence of death".  That's as tough as it gets.  Yet because of it he learned to rely on God, to give thanks for the prayers of many, and knew that God's comfort for him would lead to comfort for others.  Nothing was wasted in God's economy.  But the work he did was never easy.
People ask us how we are doing, and the words just come out automatically, "I'm good", "I'm fine", "Really well".  They're not always true.  Reluctance to serve and a struggle to live out God's call was true for Moses, for Gideon, for Jeremiah, for Jonah, for Paul and plenty more, and their stories are told with great honesty.  We can't pour out our deepest angst to everyone, but often we share it with no-one.  That isn't helpful to us or others.
Just the ordinary pressures of life in a bruising, broken world are tough.  Add the spiritual warfare we fight.  Result: we bleed, we hurt, we struggle, we need help.  And, praise God, with that help and in the power of the Holy Spirit great things happen.  God's work gets done.  The kingdom spreads and light displaces darkness.
I wish ministry was easy.  It's not.  It's hard, tough, costly, but it is immensely rewarding and immensely important.  I give thanks for my calling, and pray for all my fellow strugglers in service of God.
And, to close, I had to include a photo of one of the Swiss Guard at the Vatican.  Now there's a uniform…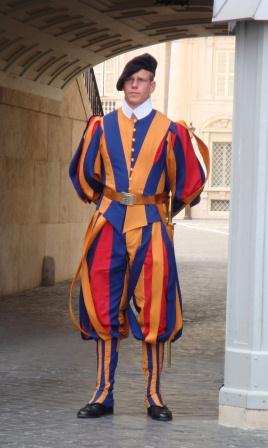 Northern
Seminary
410 Warrenville Rd, Suite 300, Lisle, IL 60532
(630) 620-2180

Request Info
Ready to start your seminary Experience?
Apply Now