Safe travels Friday / Saturday June 10-11
By: Northern Seminary
We left Northern Seminary with the inevitable group photo, but also with seminary staff standing in a circle with us while my colleague Dr Karen Walker Freeburg committed us all to God in prayer.
Along with me is John Ball, Celena Jones, Daymont Vanpelt, Lauren Anders, Kendra Stewart, Erik Kamp, Cana Roth.  Ever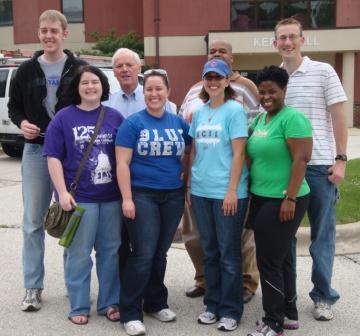 yone sees this trip as God's call on their lives.  They are great students, great Christians and great fun.
Our flight was early evening, and Friday is not a great time to be leaving over-crowded O'Hare airport.  As the plane taxied out I fell asleep, woke for a second, fell asleep again, came to and was sure we must be half way across the Atlantic.  But we were still waiting in a line to take off.
Our route took us first to Brussels where we walked a whole ten yards from our arrival gate to departure gate for the second flight with Middle East Airlines.  I have promoted MEA to the top of my great airlines list.  Along with everything being very modern (and working!), the meal during the flight was fabulous.  We were all impressed.
Rosette, our local organizer in Beirut, greeted us warmly.  Our luggage was pushed through a window into the back of a bus, and off we went.  We counted the many McDonald's, Burger King, KFC ads as our driver wove an interesting path through overcrowded streets and intersections.  None of us will complain about Chicago streets again.  The vibrancy of color, sounds, smells, noise assaulted us.  This is a big, bustling city.
The Arab Baptist Theological Seminary, our base, is part way up the hills behind Beirut.  There is a view over downtown to the Mediterranean. Perhaps one day the air will be really clear for a spectacular photo.
We ate a meal, talked through our thoughts, feelings and plans, and tried not to go to bed even though everyone was really tired.  Hard to comprehend at 8.00 p.m. that it is still only 12.00 mid-day in Chicago.  Some played games, some unpacked, some slept.  Personally I gave up by 11.00.  Sleep is God's gift and I could not wait any longer for it.
Northern
Seminary
410 Warrenville Rd, Suite 300, Lisle, IL 60532
(630) 620-2180

Request Info
Ready to start your seminary Experience?
Apply Now