The conference begins Monday June 13
By: Northern Seminary
I do not know of any college which has students in learning sessions all morning, all afternoon, all evening each day of the week.  But conferences do.  And that will be our week.  Thankfully this conference will be informative, stimulating and challenging.
The Annual Middle East Conference began today.  This year's theme focuses on The Church and Islam in Africa.  People have come from all over the region and further afield.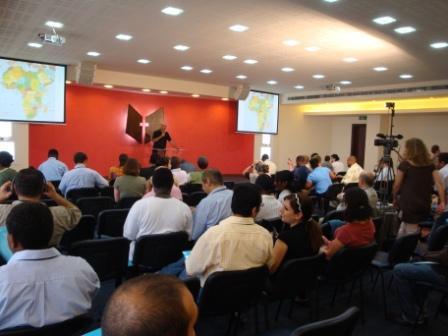 We got going at 9.00 this morning and they let us off light today by finishing for dinner at 7.00.  Every other day we start again after dinner and go on to 10.00.  It will be a fascinating marathon.
The world wide web is a very big shop window, and lots of people out there can look in and search on key words.  Not everyone does so from good motives.  At conferences like this what is taught and shared is often sensitive in nature.  Since the teaching is mostly only for the ears of those at the conference I am not going to even summarize it in this blog.  I should not cause problems for someone else by talking about their business.
But I can share that one of the most moving sessions today revolved around a 45 minute movie called "The Imam & The Pastor".  Two men, each in leadership roles in their own faith, were part of violent uprisings in their country which saw deaths on both sides.  In this real-life story both men became exhausted and exasperated by continuing violence and heartache, and eventually began a reconciliation ministry together.  They talked through the difficulties of forgiveness and the Pastor, who had lost a hand in the inter-faith violence, admitted it took him three years to remove thoughts of killing the Imam.  They learned to respect each other without losing anything of their own faith convictions.  At risk from those who opposed reconciliation they continued to drive to outlying areas to speak peace to everyone who would listen.
After the film we gathered in small groups, and before we prayed together we shared stories.  Some of those were of extreme hurt and loss and were deeply moving.  Whatever hardships we think we suffer in the US are as nothing compared to these.
I am proud of our students for the way they are participating in conference sessions, and for how they are mixing with people from across the Middle East and North Africa over meals and during breaks.  Some of their most profound learning points will come from these informal contacts.
When we debriefed tonight I asked each for one learning point.  Most struggled. There were so many learning points.  But they shared, very thoughtfully, and we agreed that the lessons being learned would not have happened without being here.  And we have only just begun.
Then, suddenly and dramatically, it began to rain outside.  Not small rain – big rain!  Rain is very unusual in Lebanon in June, but the heavens had opened and torrents poured down.  "If you want you can go stand in it" I said.  Three of our team did.  Well, they didn't stand in it.  They danced.  What it is to be young.
Northern
Seminary
410 Warrenville Rd, Suite 300, Lisle, IL 60532
(630) 620-2180

Request Info
Ready to start your seminary Experience?
Apply Now