The other Browns Wednesday June 15
By: Northern Seminary
The weather was back to predictable normal for June in Beirut: hot and sunny.  First thing in the morning the light looked good for a photograph from the seminary over the city and towards the Mediterranean.  Dedicated to excellence, I decided the roof was the place to take the picture.  That sounds intrepid or even dangerous.  Neither.  The recently built conference center (where we are meeting during the day) is immediately adjacent to our rooms at ABTS and has fewer floors, so its roof is straight through an open door from where we are on the seminary's first floor (second floor in US), and it has a four foot high wall around its perimeter.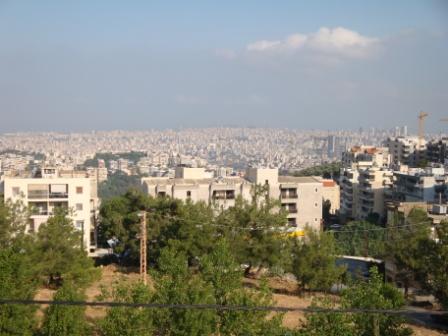 You can make up your own mind, but I think the photo is a disappointment.  Downtown Beirut has a strong haze over it in the morning.  The city of about 1.5 million people sits along the edge of the Mediterranean, and the mountains behind it create a bowl effect that traps dust and pollution.  The atmosphere is worsened with the heat of June and a lot of traffic in a crowded area.  The sea is out there beyond the buildings, but you'd hardly know it.
Morning worship at the conference is being led by ABTS graduates from Africa.  On the whole Africans do not worship quietly, and this morning's leader drew more energy out of the gathering than we thought we had.  Exuberant, enthusiastic, exciting, dynamic and capturing mind, emotions, body and spirit, we were caught up with praise and joy for all God has done, is doing and will do.  We sang loudly, we laughed and we certainly worshipped.  By the time we sat down we had also had our morning work out.
The program progressed with more deep insights into what it means to live and serve God in places very different from America and yet not so different really.  The tensions and challenges Christians face seem increasingly true right round the globe.  Often we can learn from those who have faced these things earlier or more sharply than we have, and that is what is happening at this conference.  It is not just useful, it is important.  If we really learn – and we are – there are changes we can make now, in our hearts and heads and eventually in our actions, and that will affect the futures we experience.
I opted out after lunch to have coffee with Arthur and Louise Brown and (once they were back from school) with their delightful children Jessica, Naomi and Jack.  We share a last name, but we are not related.  Browns are a very large clan.
Some years ago I was part of appointing Arthur and Louise to leave UK and come to Lebanon where they have been working in urban community development and youth ministry.  Both have backgrounds as qualified youth and community workers.  They were also part of a church planting initiative in an area of London which would have daunted most people.  "When I was still hoping Arthur and I would get married," says Louise, "I took him to that part of London to see a house that I thought would be perfect for us to buy."  Arthur takes up the story.  "Just as we got out of the car, the police heavily armed team – with full body armor – swoop in. We hear them shout commands.  'There is a man in a house – he's holding his wife hostage – he's armed with a machete!'  And Louise wants me to marry her and live there!"  They laugh.  But they did marry, and they did buy that house.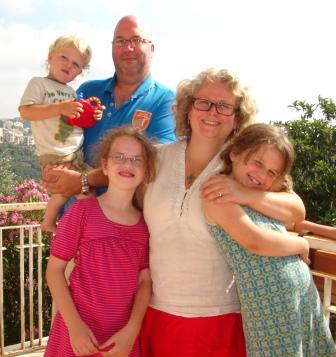 Arthur and Louise are special people, and I have the highest respect for them.  Their children are great too, and all of them are learning lessons from the Middle East that will be important for their whole lives.
There were late afternoon / early evening sessions of the conference but I was pulled out for a short time to take a phone call from Nabil Costa, Executive Director of the Lebanese Society that oversees so much work here. (See Sunday's blog for more on Nabil.)  He was inviting me for dinner later.
So at 7.30 he and I head out through the lighter evening traffic.  Lighter traffic means near collisions only every 10 seconds rather than every 5 seconds, but he is used to it and navigates us safely up the hill.  The road twists this way and that round hairpin bends.  Deep precipices plunge down to the valley below.  But we are safe, and arrive at the restaurant and are seated on an open terrace as daylight finally fades and we can see the speckles of millions of light bulbs across Beirut.  Nabil orders the food, and again I enjoy the finest of Lebanese dishes. It is all very healthy apart from the french fries, but they're not Lebanese.  Our conversation is deep and honest.  Nabil is doing very important work and he has a significant influence on many people.  I need to pray even more for him.
Before setting off from the seminary for the evening meal I saw the sun begin to set over the Mediterranean in the far distance.  So, back out on to the roof I go.  It is notoriously hard for any camera to get the right exposure when pointed towards the sun.  But that was probably not the main problem with my second less-than-wonderful photo of the day over the city.  The haze over Beirut turned out not to be only in the morning but near permanent.  You might just make out the Mediterranean in the picture.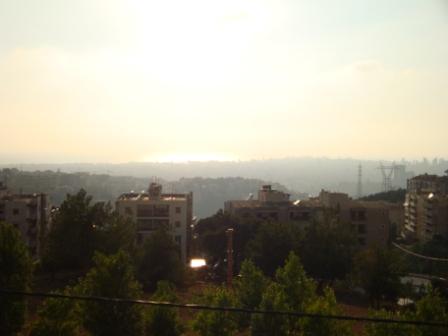 Not to worry.  Arthur and Louise are taking all of us on Saturday to Tyre and they are talking about us eating lunch on the beach.  Perhaps I will finally get a chance for a close-up photo of the Med, and maybe we will all paddle in the sea.
Northern
Seminary
410 Warrenville Rd, Suite 300, Lisle, IL 60532
(630) 620-2180

Request Info
Ready to start your seminary Experience?
Apply Now