The Whole Story
By: Northern Seminary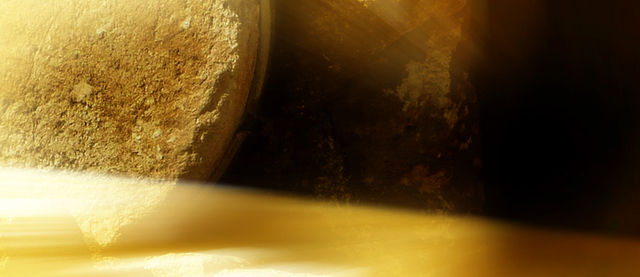 Last Sunday in church I heard Easter described as the most important event of the year for Christians. The speaker, who was not the pastor, pushed home the point by stressing how much more significant Easter is than Christmas, and (on Easter Sunday) went on to stress that Easter is all about Jesus dying on the cross for our sins so God would not have to punish us.
I'm not a fan of statements like that. Some of my discomfort centers on the image that speaker has of God and how God relates to us. (Have we nothing more to say about Easter and about the cross than God will not now have to punish us?!)
My greater unease is how the totality God's love and saving work was being divided up and ranked into events or moments of greater or lesser importance. Yes, the Good Friday and Easter Sunday events are of critical importance (see my recent Bible studies on each of these), but they don't stand alone.
Sometimes one battle in a war seems crucial to the whole campaign. But it would never have been won without the planes or ships that put the troops there, or the strategic planning which began before a single shot was fired, or getting the supplies in place, and so on. Was the planning, then, the most important thing? Or the supplies? There is no answer because all of them were crucial. Any one of them alone would either lack meaning or could never have happened.
The story of salvation is not one only of Jesus dying on the cross. It is about a God who so loved the world that he reached out again and again and ultimately through his Son, human and divine, who died, rose again, carried our humanity to heaven at his ascension, sent his Spirit, and who will return one day in great glory for his people. No part of that – and much more – can be left out. Nothing is more significant than the rest because all of it was needed.
I learned to play rugby from the age of eleven. I still remember one of the early lessons I was taught, that in rugby you don't rush to congratulate the person who scores a try. Why not? Because no-one could carry the ball over the line and touch down unless the forwards had secured the ball, the backs had passed it along the line and everyone had played their part. No individual scored. The team did.
Easter is glorious. So is Christmas. So is the Ascension. So is Pentecost. And all the other seasons. I thank God for them all, and for the wonder that he would do all of that for a sinner like me.
Northern
Seminary
410 Warrenville Rd, Suite 300, Lisle, IL 60532
(630) 620-2180

Request Info
Ready to start your seminary Experience?
Apply Now