Tough but good day Thursday June 16
By: Northern Seminary
It has been a tough day but a good day.  Tough in two senses.  One is that we've been dealing with hard issues, not always agreed with what has been said (but that is okay as we are being challenged to think in new ways), and we have a lot to keep working through as we move forward.  The other sense is that most of us are now very tired.  Conferences over-stimulate brains and under-stimulate bodies, not a recipe for good sleep.  And there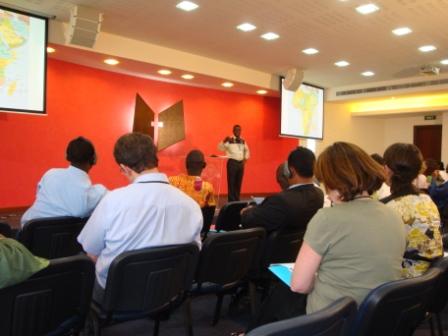 is no chair in the world which lets you sit comfortably hour after hour.  We get breaks, of course, but the schedule is demanding.  I feel sore, and it is not just the extra years I carry compared to Northern's students.
But today has also been good.  I heard some wonderful stories of God's work in people's lives, was deeply moved by their sacrifices, had great dialogue with visitors who joined the conference, enjoyed the food, laughed and prayed with Northern people and others, and found opportunity to contribute thoughts as well as learn new things from others.  That is not a bad mix.  Definitely worthwhile.
Tomorrow (Friday) is the last day of conference and it finishes with a banquet!  And – hold the presses – Northern's students will sing at the banquet!  Could there be a recording contract at the end of this?
Today's conference sessions were filled with engaging speakers.  There are several advantages of events like this:
1)      What is taught is evaluated immediately because most of the audience live with these issues on a daily basis.  No-one is an imported specialist who can dazzle with ideas no-one has considered before.  Theories detached from reality would be shot down in a second.
2)      Many different cultures are represented, and each has its own angle on the subject.  That generates fascinating insights and, hopefully, a broader understanding of the truth for everyone.
3)      Here, those of us from the west are the exception.  We are very welcome and considered important participants with views that matter.  But most are not from the west.  These are people talking to their peer group in their own context.  Were they being brought to the west, they could be tempted to soften or heighten their message to fit the agenda of those who have flown them half way round the world and from whom they might hope to win financial support.
4)      Every speaker is welcome to choose Arabic or English as the language they use.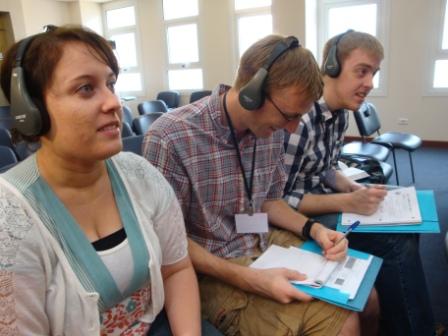 They are translated while they speak with no interruptions.  So when it is Arabic, we wear headsets and hear first rate simultaneous translation.  As a listener I feel I lose very little.  Because lecturers use a language which is natural for them they can deliver their message effectively.
There are more pluses than these few.  Are there downsides?  There must be, for almost no system only has advantages.  For example there is still the temptation to fit the message to the audience's prevailing views.  Or there can be fewer 'outside' perspectives heard.  But on balance this is a very effective event.
One of the more revealing confessions – and I have heard it more than once – came from some who arrived at this conference from other areas and were surprised to find there are Christians throughout the Middle East and North Africa.  They had assumed everyone was Muslim.  Instead they find vibrant faith, and that some of the Christian traditions here trace a direct link right back to the beginnings of the church.  Those who made those 'confessions' come from countries where access to news is not so good, so some lack of understanding may be allowable.  But I also wonder how informed most Christians are across much of western Europe and North America.
Late in the day there were great dialogues about religious trends in the Middle East, and also time to socialize with people whose lives are very different from ours.  All of us have met some wonderful people, happy to share their faith, their experiences, their sense of calling.  I took a photograph of some of our students with Arab Baptist Theological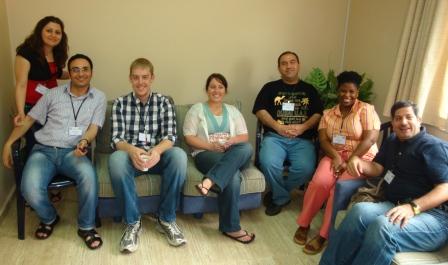 Seminary students who have come here from Iraq and Egypt.  Each had stories to share.  In weeks or months ahead I will be interested to know from Northern's students whether they have been most affected by things they have been taught or by the interactions they have had.  I think I already know the answer.
With the formal sessions not finishing until nearly 10.30 p.m. our late night time to share reflections and pray was very late night.  Everyone is doing well, looking forward to visits to various ministries and places over the weekend and next week, missing friends and family, and very glad to have come here.
I have told them I was proud that they offered immediately to sing at the closing banquet.  If I had been with British people like me, we'd have waited for others to step up, and even when asked directly might have had to be pressured into taking part.  I love our students' ready willingness to use their gifts.  I think they believed me.  They should.
Northern
Seminary
410 Warrenville Rd, Suite 300, Lisle, IL 60532
(630) 620-2180

Request Info
Ready to start your seminary Experience?
Apply Now