Visit to Tyre Saturday June 18
By: Northern Seminary
At last we would stand where Jesus stood, in the ancient city of Tyre in the far south of Lebanon.  It is a conservative area, so we had good instructions on modest dress and proper behavior.
It is also very much still a militarized area.  Memories of the shelling of the area in 2006 are still fresh.  Our route south by bus included several military check points, with soldiers happily uninterested in a bus of westerners.  The UN also had an outpost, a large gun permanently pointed down the main road.
Not once did we feel threatened or uneasy.  A few people were curious about us, but still friendly and helpful especially if we looked like buying something in the market.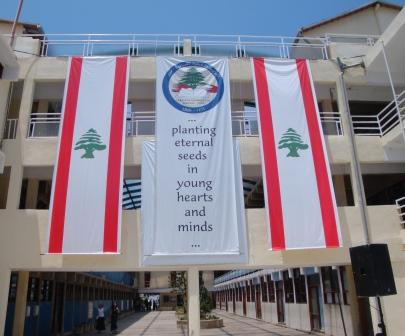 We began with a visit to the Lebanese Evangelical School – Tyre.  It has had a long-term presence, now led by a very committed British couple.  Over coffee in their home they talked about the school's work, how a place in the school was prized because of high academic achievements, and how strong relationships were built with the families of the students.  There is a lot of significance in the very visible school motto: 'Planting eternal seeds in young hearts and minds'.
One of the goals of our course is to develop an appreciation of the very ancient history of the Middle East.  From the school we walked less than 100 yards and we were among the ruins of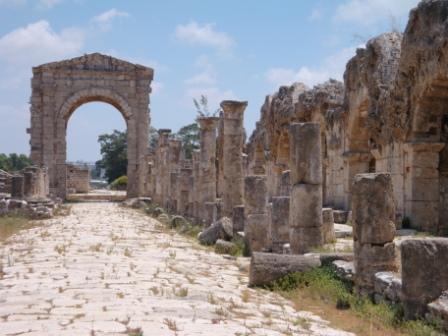 ancient Roman Tyre.  There we stood.  Not looking from behind a fence, but walking on the roads and among the columns, walls, passage-ways.
I had two reactions.
First, concern that I was on the actual old Roman road towards the archway entrance into the city.  Ruined lesser archways were off to each side.  Easily I could have climbed among them or even taken something as a souvenir.
Second, immense privilege to be in such a place.  I am not unused to old buildings or locations, but this was special, very special.  All our group were sensing it.  They were walking through a place with structures from Jesus' time.
We crossed over to one side, and found ourselves on the track where chariots were raced.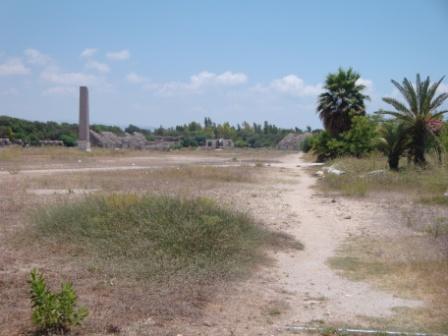 I cannot do justice to describing how immense it was.   My photograph probably shows less than half the length.  Was the length the equivalent of 3 football pitches or even 4?  Our guides for the day, Arthur and Louise Brown (see last Wednesday's blog), said it was the second largest amphitheater of its kind built by the Romans anywhere.  Perhaps the massive scale indicates the importance of Tyre; the pride citizens took in their facilities; the easy access by land or sea for crowds to watch; the hunger in the ancient world for amusement.  On that last point not much has changed in the modern world.
At the far end and to one side were still some tiered viewing areas.  Half way along the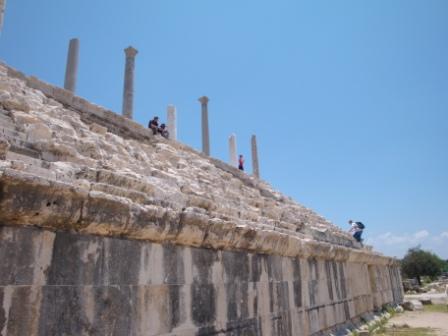 front wall was a door through to steps which took patrons to the upper viewing areas.  Today too people were clambering up and down those steps and standing between the columns at the top just like ancient Romans would have done.  Beneath and on either side were passageways, and I could imagine the movement of hundreds of people – many probably slaves – as they got things in place for the entertainment of the crowds. I have visited the Colosseum in Rome, but Tyre offered a much closer view and that brought things vividly to life.
I wandered over to the other side of the arena.  Right before me were the remains of an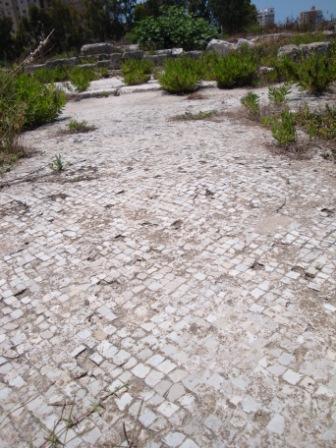 extensive Roman tiled floor.  It was remarkably detailed.  Though broken and overgrown in places, it was still clear.  Some very expert craftsmen put that in place, and all so many years ago.  I would have loved to walk over it and imagine my feet where some ancient Roman official or merchant of wealth would also have walked.  But I resisted the temptation, for I would wish that floor to remain for many more years.  Just looking at it was a special moment for me.
Probably several of us could have spent the whole day there, but we wanted to get a feel for the rest of Tyre.  And it was lunchtime.
Sandwiches were bought, and we gathered on the beach.  Shoes came off, and most went paddling in the Mediterranean.  Two did more than paddle, plunging into the waves and enjoying the cool ocean.  Happily they also came back.  The sun was beating down and suddenly I realized how hot the sand was.  The soles of my feet began to burn.  (Please do not torture me on hot coals – I will submit immediately.)  The pain was severe, and I had to scramble up on a wall to escape.  Someone passed me a sandwich and an ice cold Pepsi, and I healed.  Remarkable method of cure.
We toured the market area, and some made purchases.  I'm sure they paid more than locals, but they did haggle the price down a long way from where it started and sellers and buyers seemed content with the deals.  We visited an ancient church and sang the doxology in it.  Then back to the bus, and up the road to Beirut.
Everyone was tired.  But I knew that if I fell asleep there were seven students with cameras ready to take the picture.  My eyes disobeyed my will, and sleep got me.  I know some of the students did too.  But they know I have still to assess their work for this course, so for at least a time those photos will stay private.
Northern
Seminary
410 Warrenville Rd, Suite 300, Lisle, IL 60532
(630) 620-2180

Request Info
Ready to start your seminary Experience?
Apply Now