Dr. Mariottini's New Book Now Available
We are excited to announce the release of a new book written by Dr. Claude Mariottini, Professor of Old Testament!  From the back cover of the book:
Rereading the Biblical Text: Searching for Meaning and Understanding deals with problems scholars face in translating Hebrew words and sentences into contemporary English. Modern readers have many choices when selecting a translation of the Bible for personal use. Translators seek to convey to today's readers the message the biblical writers tried to communicate to their original readers. At times, however, what the original authors tried to convey to their audience was not clear. Claude Mariottini has selected several
difficult passages from the Old Testament and compared how different translations have dealt with these difficult texts. Pastors, seminary students, and serious students of the Bible will be challenged to reread the biblical text and understand the message of the biblical writers in a new perspective.
Dr. Mariottini is a blessing to Northern Seminary and his writing in this book will bless all who read it.  You can pick up a copy of the book here.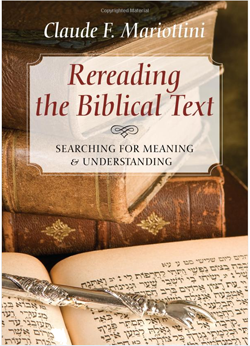 For
Media Inquiries
For news media seeking comments from President Shiell or other seminary faculty or staff, please contact our communications team.
Phone: (630) 620-2188
Email: psheldon@seminary.edu
Northern
Seminary
410 Warrenville Rd, Suite 300, Lisle, IL 60532
(630) 620-2180

Request Info
Ready to start your seminary Experience?
Apply Now