Faculty Retreat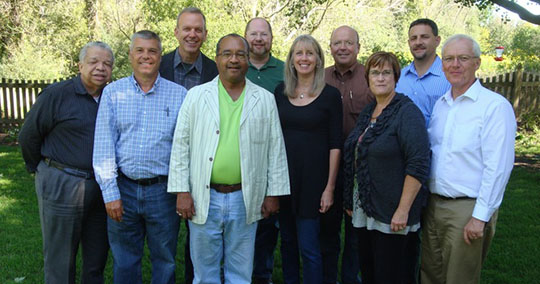 ---
The onset of a new school year at Northern offers the perfect opportunity for the community to reflect on learning with fresh perspectives, for teachers and students alike. A group of faculty engaged in this spirit of contemplation communally on a retreat September 10-11 at the home of President Alistair Brown. Honest introspection on both personal and institutional levels pervaded the faculty's time together, as well as the theme of community-building. Dean Karen Walker Freeburg and Dean Blake Walter collaborated to lead our professors in conversation, recentering, prayer, worship, fun, and relaxation.
The retreat began with faculty compiling statements found in Northern publications about traits our graduates embody. In other words, they listed things that we claim students will know, become, and be capable of doing because of their studies here. These learning outcomes were then organized into the categories of ministry skills, ministerial formation, and Christian heritage. After all of that, strategic analysis began as these ideals were juxtaposed with actual student experiences. Exploring both the successes and shortcomings found through this evaluation helped faculty to look at their teaching roles with increased clarity and purpose.
Another major conversation of the gathering was that of racial and gender reconciliation within curriculum and campus culture. Dean Karen Walker Freeburg commented, "these are Kingdom issues which we all agree are important student learning outcomes of their experience at Northern." The faculty spent time reminiscing milestones in Northern's history related to justice and equality, including highlighting key leaders of the development along the way. "It was helpful learning for our new faculty and a good time to remember, repent, and celebrate for all of us," said Karen. This period concluded with everyone making goals and commitments related to further growth in the realms of racial and gender reconciliation.
Fellowship and camaraderie grew among the faculty during the two days as well. In addition to the dynamic group discussions, professors shared meals, prayer, and worship. Seasoned Northern leaders also got to formally welcome Scot McKnight and Cherith Fee Nordling into the teaching community. Reflecting on experiencing the retreat as a newcomer, McKnight commented, "I feel much more comfortable with my colleagues. The family atmosphere of the seminary was manifested at each event." This was evident between him and David Fitch when the two let their respective Twitter audiences in on some friendly banter about each other's wardrobes.
Overall the retreat was a major success. In addition to engagement and fun, Walker Freeburg said she was encouraged by the faculty's "mutual passion for the ministry with which we have been entrusted – training the leaders God has called for the ministry of Jesus Christ's church." We're confident that the gathering wasn't just a blessing to those who attended, but also to our students who get to learn from rejuvenated professors. We're grateful for the amazing leaders God has brought to Northern, and are excited to see how they'll continue to bless our community.
For
Media Inquiries
For news media seeking comments from President Shiell or other seminary faculty or staff, please contact our communications team.
Phone: (630) 620-2113
Email: dbutler@seminary.edu
Northern
Seminary
410 Warrenville Rd, Suite 300, Lisle, IL 60532
(630) 620-2180

Request Info
Ready to start your seminary Experience?
Apply Now