Kingdom Conspiracy
We're excited to be partnering with Missio Alliance to host a morning of presentations and conversation with Scot McKnight around his newest book, Kingdom Conspiracy: Recovering the Radical Mission of the Local Church.
This event is especially for Chicagoland church and ministry leaders as well as seminary students. With special thanks to Brazos Press, everyone who attends will receive a free copy of the book!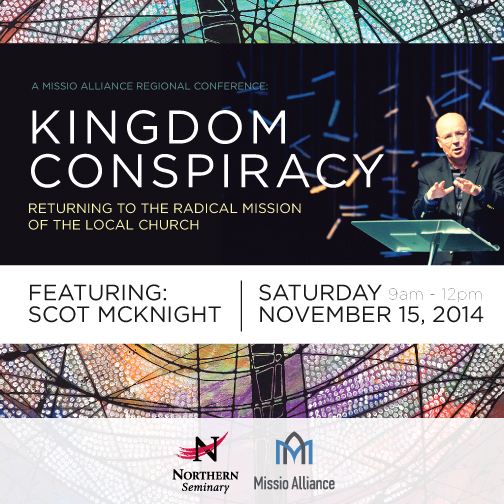 According to Scot McKnight, "kingdom" is the biblical term most misused by Christians today. It has taken on meanings that are completely at odds with what the Bible says. "Kingdom" has become a buzzword for both social justice and redemption so that it has lost its connection with Israel and with the church as a local church.
McKnight defines the biblical concept of kingdom, offering a thorough corrective and vision for the contemporary church. The most important articulation of kingdom was that of Jesus, who contended that the kingdom was in some sense present and in some sense in the future. The apostles talked less about the kingdom and more about the church. McKnight explains that kingdom mission is local church mission and that the present-day fetish with influencing society, culture, and politics distracts us from the mission of God: to build the local church. He also shows how kingdom theology helps to reshape the contemporary missional conversation.
We're excited to offer this conference at 50% off for Northern Seminary students! If you are interested in the student discount please contact us.
We are also glad to offer one free registration for every group of 7 that registers together. For information regarding this discount please contact Missio Alliance.
To register for the event or to learn more please the registration page.
For
Media Inquiries
For news media seeking comments from President Shiell or other seminary faculty or staff, please contact our communications team.
Phone: (630) 620-2113
Email: dbutler@seminary.edu
Northern
Seminary
410 Warrenville Rd, Suite 300, Lisle, IL 60532
(630) 620-2180

Request Info
Ready to start your seminary Experience?
Apply Now