Leadership, Expansion, and Accreditation – The Second 25 Years 1938-1962
President Taft, the dedicated faculty, and the Board of Trustees guided Northern through the challenging years of the Great Depression. Due to their leadership, Northern emerged as strong as ever. God continued to bless Northern's mission to be a biblical, evangelical school for the Baptists and other Christians of the Midwest. It is hard to know which comes first, vision or leadership. Or perhaps God chooses to bless with both at the same time. With the arrival of the New President, Dr. Charles W. Koller (1938-1962), Northern lacked neither vision nor leadership. Due to his leadership, 1938 to 1962 became known as "The Koller Era."
For nearly one quarter of Northern's history, Koller continued to enhance Northern' s good reputation by adding key faculty positions and by hiring biblical scholars who also knew the importance of training pastors and leaders. In continuing the tradition of preparing men and women who "knew their Bible," but who also had a pastor's heart and the wisdom to combine good theology with a caring heart, Koller placed the students themselves and their future ministries first. Consequently, a whole generation of well-known evangelical leaders, who graduated from Northern during the Koller Era, helped shape the 1960s and 1970s and strengthen the evangelical cause in our nation and around the world, a tradition that continues today.
When the West Washington Blvd. campus grew to its largest enrollment of 333 students in 1944, it was hard to imagine further growth. But with World War II coming to an end, many service men and women saw an opportunity to start or continue preparation as a pastor, missionary, or Christian Education worker. Northern provided the perfect opportunity and opened its doors to welcome these returning veterans. Campus expansion included the acquisition of traditional three and four flats along Washington Blvd. to make more room for increasing enrollment. Northern's presence expanded from Albany St. to Sacramento St. to include more student housing.
In addition to developing its enrollment and housing, Northern proudly affirmed its evangelical heritage and position. While many Baptist groups splintered, Northern chosoe to remain in the Northern Baptist Convention, an important decision at the time.
Northern's academic reputation also received a boost in the 1940s. The long sought accreditation from the North Central Association was granted in 1947. This is perhaps President Koller's greatest achievement during his time at Northern. Such accreditation was a stamp of approval that demonstrated the school's commitment to academic excellence. In the coming days, it would be easier to attract quality faculty and to provide a greater range of programs to the expanding student body. The faculty, under Koller's leadership, turned an eye toward seeking accreditation by the American Association of Theological Schools. It would take more time to achieve this goal.
There was one nagging problem that remained in the midst of such growth and good news. How does a growing school provide a place for the community to gather for worship and celebration? The current chapel facility did not meet campus needs by the 1950s. The answer was found through building Howel Chapel. Construction began in November of 1957, and the dedication ceremony, attended by Chicago Mayor Richard J. Daley, was celebrated in September of 1958. The chapel proved to be the centerpiece of the campus. A new building had not been added in years. Howel Chapel was the last new building at the Chicago campus. By the late 1950s, the Koller Era was winding down. Koller's visionary leadership, however, ushered in many changes such as campus expansion, enhanced faculty, a growing student body, and academic accreditation.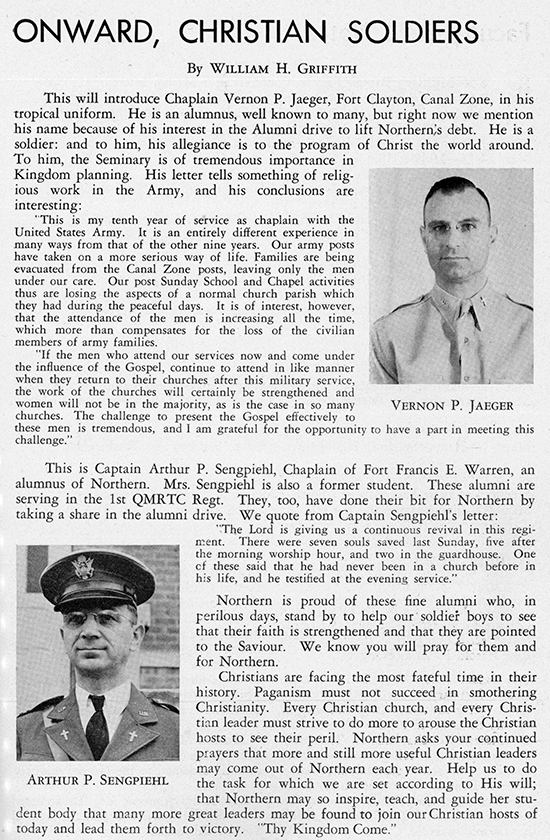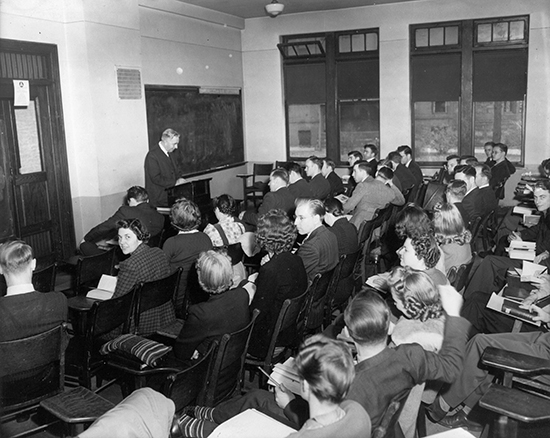 Dr. Striansen's Class in 1943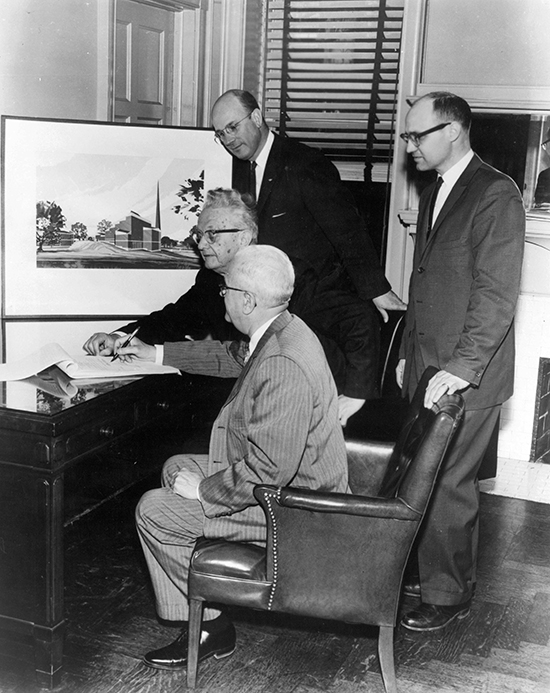 Signing contract for sale of Washington Blvd. Campus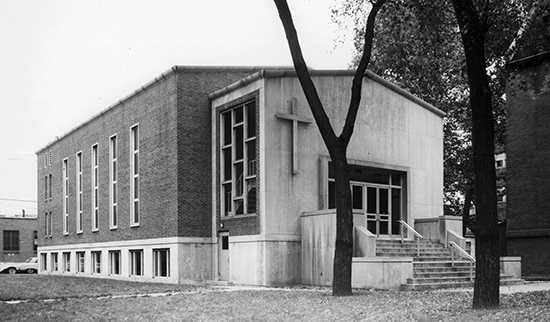 Howel Chapel. Still standing as St. Stephen AME Church, 3042 W. Washington, Chicago
For
Media Inquiries
For news media seeking comments from President Shiell or other seminary faculty or staff, please contact our communications team.
Phone: (630) 620-2113
Email: dbutler@seminary.edu
Northern
Seminary
410 Warrenville Rd, Suite 300, Lisle, IL 60532
(630) 620-2180

Request Info
Ready to start your seminary Experience?
Apply Now