Living out Missional Faith: Brett Smith's Story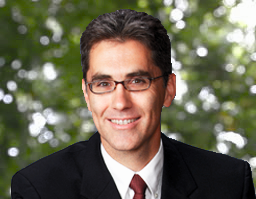 Brett Smith discovered his calling into ministry shortly after graduating from the University of Illinois in 1987.  While working with young adults he found himself, as a relatively new believer, being called to serve and influence young adults in a positive way.
Twenty-five years later, Brett now serves as the Pastor and Director of the University Baptist Church (UBC) and Baptist Housing Ministry (BHM) in Champaign, IL.  For the last 100 years, UBC has actively engaged its community with worship, biblical study, prayer, fellowship, and service.  Today, UBC continue to impact its community by bringing people into fellowship with God and each other.
In response to God's calling, the UBC formed on the University of Illinois campus, which provides the church with a unique challenge: reaching and connecting with the many students that attend the University of Illinois each year.  During his time at Northern, Brett felt God calling him to join this challenge.
One of the ways that Brett and the UBC strive to make this impact today is through BHM.  Since its inception in 1949, BHM has provided students with a Christian cooperative living environment that enhances academic pursuits and spiritual growth.  With Christ as the foundation, the BHM has built an exceptional campus housing opportunity.
Leading up to this work and ministry, Brett pursued a call to theological education and ministry training.  As the result of a home pastor's encouragement, Brett decided to start an MDiv at Northern Seminary, and this decision set the stage for his later work in young adult ministry and discipleship.
Reflecting back on his time at Northern, Brett is thankful not only for the ways that the faculty and staff invested in his life but also the ways that Northern's biblically grounded curriculum and practical field experiences have effectively prepared him for his calling in life.
Twenty-three years after completing his MDiv, Brett continues to pursue his calling through his work at the UBC, at the BHM, as a lecturer for the Urbana Theological Seminary, as an author, as an officer for the University's Religious Workers Association, as an officer in his American Baptist Churches area, and as an active community member.
Brett understands how deeply students are searching for an identity, and as one of the largest colleges in the United States, including the second largest international student population, the University of Illinois has many searching students.  Brett Smith and the UBC have followed God's call to reach these students.
We are so grateful for the ways that God works through Northern's graduates!  We invite you to pray for Brett and his campus ministry work.  We are also very grateful for your continued support of Northern Seminary and its graduates.
For
Media Inquiries
For news media seeking comments from President Shiell or other seminary faculty or staff, please contact our communications team.
Phone: (630) 620-2113
Email: media@seminary.edu
Northern
Seminary
410 Warrenville Rd, Suite 300, Lisle, IL 60532
(630) 620-2180

Request Info
Ready to start your seminary Experience?
Apply Now