Living out Missional Faith: David Watkins' Story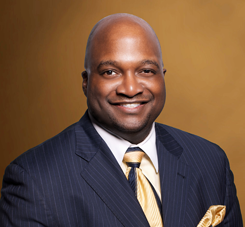 In the face of today's spiritual and social challenges, seeds of renewal are sprouting in Washington Park, a historic African American community in Chicago, where David Wayne Watkins, III serves as Senior Pastor of the Greater Bethesda Missionary Baptist Church.
David has witnessed firsthand the devastating effects that poverty, violence, and poor education has on the community and the local church. As God's agent for transformation in the world, David insists the church has a vested interest in the holistic wellbeing of the communities where we live, work and worship because the renewal of the church is "inextricably bound" to the renewal of the community with the gospel of Jesus Christ. With a passion for leadership, David is encouraging and equipping Christ-followers to engage the community with God's love and participate in God's mission to transform it through service.
Serving the church David grew up in has been challenging, but obtaining his MDiv from Northern provided the tools needed – spiritually, theologically and practically – to make an impact in the community and world. Today, David is passionately teaching the gospel, engaging his community, and transforming lives.  Please keep David in your prayers as he continues to serve God.
For
Media Inquiries
For news media seeking comments from President Shiell or other seminary faculty or staff, please contact our communications team.
Phone: (630) 620-2113
Email: media@seminary.edu
Northern
Seminary
410 Warrenville Rd, Suite 300, Lisle, IL 60532
(630) 620-2180

Request Info
Ready to start your seminary Experience?
Apply Now