Living out Missional Faith: Miles Mark Fisher's Story
Born into a leading African American family at the turn of the nineteenth century, Miles Mark Fisher had much to be proud of and much to live up to.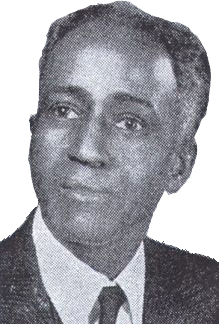 Miles was the youngest child of a well-known and equally well respected minister named Elijah John Fisher.  Rev. Elijah Fisher, along with his wife Florida Neely Fisher, passionately served at the famous Olivet Baptist Church in Chicago, which during the early nineteen hundreds grew into one of the world's largest churches and became the anchor for the National Baptist Denomination.  Rev. Elijah Fisher was committed to his ministry in Chicago and this commitment included a strong focus on family growth.
As a child, Miles undoubtedly developed a great respect and admiration for his father who, being a former slave was largely self-educated and very hard working.  The discipline that Mile's father modeled created a home environment that was intellectually stimulating and centered on education and Christian service.  It was this influence that led Miles to pursue education and ministry.
Upon completing high school in Chicago, Miles began his undergraduate degree in gospel studies at Morehouse College in Atlanta.  He then returned to Chicago to earn a Bachelor of Divinity degree from Northern Seminary, the first African American to do so, while simultaneously completing a Master of Arts degree from the University of Chicago and serving as the pastor of the International Baptist Church in Chicago.
By the spring of 1922, at the young age of 23, Miles had already accomplished more than many of his peers.  He completed college and two graduate programs, worked as the Secretary for the YMCA, lectured for the Anti-Saloon League, and wrote a book on the life of his father titled The Master's Slave – Elijah Fisher.  In addition to his book, he wrote a thesis for his Bachelor of Divinity degree entitled "The History of Negro Baptist Missions" which established him as a talented thinker, writer, and historian.
As indicative of his early life, Miles was driven, hardworking, and passionate for both education and ministry.  This incredible devotion led Miles to Virginia Union University in Hampton Virginia where he served as the professor of English and Ecclesiastical History for six years.
While on faculty at Virginia Union, Miles discovered the balance between educational excellence and devout ministry leadership.  During his tenure, Miles published another essay and pastored two local churches.  This continued success advanced the academic commitment and ministry desire that Miles held.
Following his experience in Virginia, Miles decided to accept God's calling for full time pastoral work at the Sixteenth Street Baptist Church in Huntington, West Virginia, where he served as pastor from 1928 to 1933.  During this time, Miles married Ada Virginia Foster, and together, they had six children.
Then in 1933, Miles felt God calling him in a new direction, and he followed this call to the White Rock Baptist Church in Durham, North Carolina, where he spent the rest of his ministerial calling.  Mile's style for preaching deeply impacted the White Rock Baptist Church, and at the height of his preaching career, Miles was honorably featured in the July 1954 issue of Ebony as one of the "Top Ten" Black Preachers in America.
With a growing influence and a deepening desire to learn, Miles decided to continue his education at the University of Chicago where he earned a doctorate in Church History.  The research and work from his doctoral thesis was published as Negro Slave Songs and was awarded the outstanding history volume of the year by the American Historical Association.  Beyond his doctoral program and his foundational doctoral thesis, Miles continued to attain national recognition for his commitment to history, education and ministry.
In 1965, Miles officially retired from full time ministry and he did so having achieved a successful career.  As we look back at Miles Mark Fisher's amazing life, it is difficult not to have a great respect for his caliber of work.  Miles left his mark as a historian, an educator, and a preacher, and his impact will not be forgotten.
Resource: Robert James Price, R., Reconciliation Through Storytelling: Deconstructing and Reconstructing Houses For Intercultural Intimacy, 232-234
For
Media Inquiries
For news media seeking comments from President Shiell or other seminary faculty or staff, please contact our communications team.
Phone: (630) 620-2113
Email: media@seminary.edu
Northern
Seminary
410 Warrenville Rd, Suite 300, Lisle, IL 60532
(630) 620-2180

Request Info
Ready to start your seminary Experience?
Apply Now