Living out Missional Faith: Miriam's Story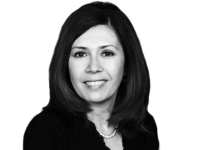 Miriam Chacon-Peralta graduated in 1992 with her Master of Divinity and again in 1994 with a Master of Arts in Christian Education. Alumni like Miriam reflect such beautiful dedication to following the calls God places on our lives, and as Northern celebrates its Centennial, we also celebrate the ministries Northern alumni are serving in all over the world.
Miriam Chacon-Peralta currently ministers with The Ministers and Missionaries Benefit Board (MMBB), as representative to Florida and Puerto Rico. MMBB cares for pastors through its benefit plans; her duties also include special assignment to the Latino community. When asked what advice she would share with others preparing for ministry, Miriam responds, "Trust God. The closer you walk with a person, the more you know that person's heart and gain a sense that you're walking in the right direction."
Northern Seminary would not be celebrating 100 years if not for the faithful ministry of Miriam and her fellow alumni living out their evangelical, missional faith.
For
Media Inquiries
For news media seeking comments from President Shiell or other seminary faculty or staff, please contact our communications team.
Phone: (630) 620-2113
Email: media@seminary.edu
Northern
Seminary
410 Warrenville Rd, Suite 300, Lisle, IL 60532
(630) 620-2180

Request Info
Ready to start your seminary Experience?
Apply Now