Living Out Missional Faith: Tyron Smith's Story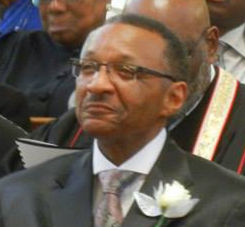 During his undergraduate and graduate studies which were focused specifically in pastoral care, evangelism and theological training Pastor Tyron Smith found himself being well equipped to serve the Body of Christ. Tyron has been called Bi-vocationally by God to serve the Southside of Chicago as Pastor of Greater Mount Moriah Missionary Baptist Church and Christ Medical Center as a Board Certified Chaplain. Most importantly he has been called as one bound to witness the salvific message of soul salvation available in Jesus Christ.
With this calling, Tyron has discovered that evangelism and pastoral care are intricately integrated in outreach. As such he is committed to bring an evangelistic message and outreach effort to the neighborhoods in which Greater Mount Moriah MB Church and Christ Medical Center are situated. In Acts 1:8 the message is clear— 8 "but ye shall receive power, after that the Holy Ghost is come upon you: and ye shall be witnesses unto me both in Jerusalem, and in all Judaea, and in Samaria, and unto the uttermost part of the earth."
Tyron has made it his mission to carry this witnessing effort forth and present it with love, compassion and care that is occasioned in the Great Commandment, "Loving thy neighbor as thyself."  Looking back at his seminary experience, Tyron is deeply grateful for the training he received at Northern.  Thanks to this amazing educational experience, he feels equipped to meet the challenges of our present day.  Please remember to pray for Pastor Smith as he continues to live out his calling.
For
Media Inquiries
For news media seeking comments from President Shiell or other seminary faculty or staff, please contact our communications team.
Phone: (630) 620-2113
Email: media@seminary.edu
Northern
Seminary
410 Warrenville Rd, Suite 300, Lisle, IL 60532
(630) 620-2180

Request Info
Ready to start your seminary Experience?
Apply Now