Northern Remembers MLK, Jr.
Northern Seminary gathered today to commemorate the life and service of American clergyman, activist, and civil rights leader, Dr. Martin Luther King, Jr. Students, faculty, and staff paused midday to sing classic gospel songs, like "We Shall Overcome" and "Lift Every Voice".  Following the worship was a powerful message from Rev. Jesse Brown, of First Baptist Church, Chicago reflecting on Dr. King's impact and ministry during his lifetime.
Even more powerful was the signifigance of the podium Rev. Brown spoke from. Donated to Northern from a church, the podium was originally used by the Chicago Sunday Evening Club, and came to be known as "The Nation's Pulpit". Some of the best known names in American religion and public life were speakers on the program, including John Ashcroft, Booker T. Washington, William Dever, Emil Hirsch, Clifford Barnes, and Martin Luther King, Jr.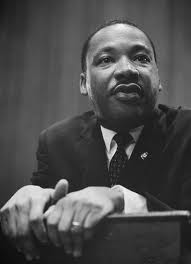 For
Media Inquiries
For news media seeking comments from President Shiell or other seminary faculty or staff, please contact our communications team.
Phone: (630) 620-2188
Email: psheldon@seminary.edu
Northern
Seminary
410 Warrenville Rd, Suite 300, Lisle, IL 60532
(630) 620-2180

Request Info
Ready to start your seminary Experience?
Apply Now