O Northern We Hail Thee With Gladness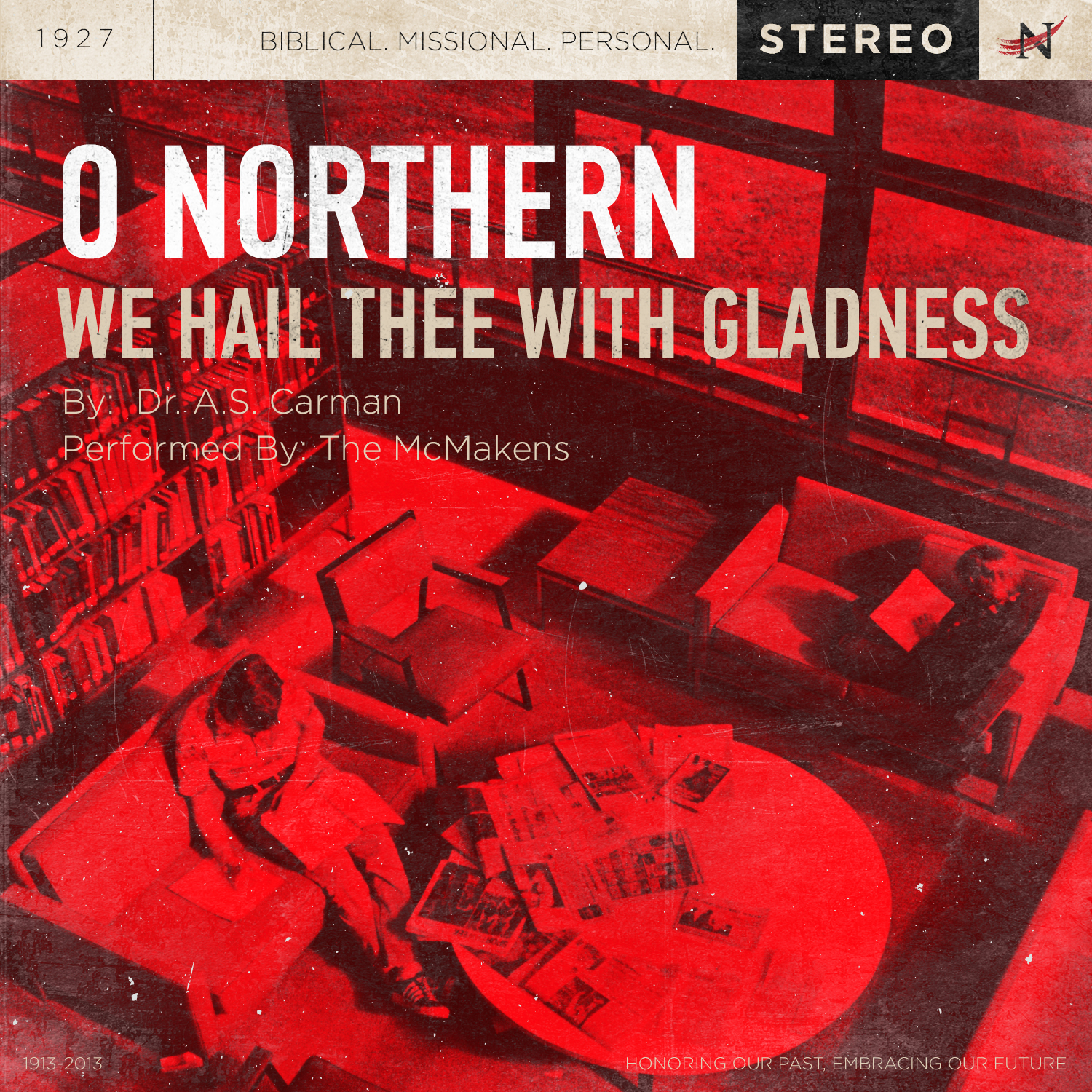 In 1927, O Northern was written by Dr. A.S. Carman. Originally, it was sung to the tune of Lorelei. To help celebrate Northern's centennial we asked Bonnie and Trevor McMaken to record a new version of the song. Trevor is a recent graduate of Northern Seminary. Please feel free to share this song and be sure to check out The McMaken's latest album Homegrown.
---
O Northern, we hail thee with gladness,
The school of our love and pride.
Standing firm for the Truth of the ages,
For the faith of the Crucified.
From afar come thy sons and thy daughters.
And far o'er the world they go,
The Name above every name held high,
And their hearts with His message aglow.
We seek for minds of culture,
For hearts of love divine,
For wills at one with our Master,
Whose cross is our conquering sign.
We're comrades of Christ and each other,
Our hearts in unison beat,
As we study and pray together,
Each day with its duties replete.
O Northern, thou school of the prophets,
Our Master make thee great!
And send thy light far-shining
Among earth's desolate.
May we be wise with His wisdom,
Our hearts aflame with His love,
May we greatly build as we build with God
For this world, and the world above.
---
Learn about the centennial year at Northern Seminary and register to join us in September for our celebration. Visit seminary.edu/100 for details.
For
Media Inquiries
For news media seeking comments from President Shiell or other seminary faculty or staff, please contact our communications team.
Phone: (630) 620-2188
Email: psheldon@seminary.edu
Northern
Seminary
410 Warrenville Rd, Suite 300, Lisle, IL 60532
(630) 620-2180

Request Info
Ready to start your seminary Experience?
Apply Now